Home page|| Tanker Notes || Container Ship Operations || Ocean Navigation ||



Catering for galley staff- Stock Management & Administration

Chief cook role: Shipboard chief cook role should be intended to save money by efficient operation or elimination of unnecessary features. He sould working in the best possible manner with the least waste of time and effort. His primary role to be :
cooking efficiently & economically


designing a well balanced menu
the various cooking methods
accurate stock controls
ordering, receiving & storing
temperature control
hygiene & sanitation.
Cooks on all seagoing vessels should
be able to apply the information provided in order to produce quality meals that will satisfy their fellow crew members and officers. He should
understand the importance of good administration and stock control in order to adhere to the allocated budget.
He should strict to correct storage practice & the principles of the "Fist In / First Out (FIFO)" rule.
provision requisitions, receiving & checking supplies, verification of invoices
monitoring food temperatures during receiving & storing
the importance of monthly "physical" inventory counts in determining the vessel's victualling performance
month-end administrative requirements.
Chief Cook is responsible for using company resources in order to produce quality meals for all officers & crew. At the same time, he is expected to remain within the allocated budget. It is therefore very important to set up and follow certain food control and administration procedures that will enable chief cook to make the best use of the available resources.

Food storage

When storing and using food chief cook should follow the first in, first out (FIFO) rule. By sticking to this principle, goods will be used in the order they are delivered. For example, do not put today's frozen beef silverside into the freezer in front of those delivered from the previous supply. Create a system so that new deliveries are stored behind those already in storage.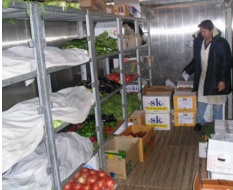 Food storage


Store food only in areas designed for storage. There is no excuse for storing food products near chemicals, in toilet areas, in the boiler or furnace room. This is dangerous because of the risk of contamination and it is prohibited by local heath codes.

Keep potentially hazardous food out of the temperature danger zone which is 5 to 63 °C.

All goods should be kept in clean and undamaged wrappers or packaging. A dirty wrapper can attract pests and contaminate food as it is opened. Damaged or torn packaging is a sign of potential contamination or pest damage. Packaging should not be reused unless under special conditions. If goods are removed from their original packaging, they should be stored in clean, airtight containers.

Keep food trolleys clean. Do not transport meat to the galley on a dirty trolley or a trolley used to carry rubbish. Keep storage areas clean and dry. This rule applies to dry storage, refrigerators, freezers and heated cabinets.
Stock Management & Administration
Ordering

Bulk items, frozen and dry goods should be ordered to cover a period of 1 to 3 months, provided there is enough storage on board. Relevant staff will let you know if the port you choose to purchase items from is suitable.


Fresh foods


Fresh and perishable items should be ordered every 2 to 3 weeks. Local fruit and vegetables are preferable to imported produce as they are cheaper. Homemade soup is preferable to powdered soup. They are easy and cheap to make and have nutritional value.

Loading

All items need to be counted and quantities and quality are to be verified. Rejected and returned items must be deducted from the invoice before signing. Make sure those items are deducted in all the invoice copies. Before taking any supplies on board, the supplier should give you a delivery note.

Delivered items need to be checked against the delivery note to make sure everything is correct. The Chief Cook is responsible for thoroughly inspecting all items. Items that are out of date, spoiled, damaged or unsuitable should be rejected. Check temperatures of frozen and chilled items. Provisions should be rejected if they have been delivered in a dangerous temperature range.

Invoices

Invoices must be verified for accuracy, then stamped and signed by the Master. One copy should remain on board and one copy should be given back to the supplier, so they can forward it to our office. Invoices may be replaced by delivery notes only.

Freezer Temperatures

Freezers must be maintained at a temperature of 0°F (-17.8°C) or lower. All food needs to be stored within a specific temperature range to guarantee food safety and to preserve food longer. It is your responsibility to ensure all storerooms are set at the required temperatures.

You should regularly check that temperatures are at the correct setting. If you notice anything unusual you need to inform the Master immediately. It can be dangerous to consume food stored outside the required temperature range. Food should not be left uncovered in freezers as this can lead to freezer burn and waste.

Inventories

It is important to carry out a physical inventory of all storage areas to clarify the exact quantities of stock available on board at that time. Calculations are based on the number of provisions consumed versus the number of daily meals served.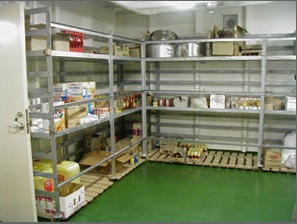 Food inventories


To find out how much stock was consumed in a month, subtract the total amount of stock left at the end of the month, from stock at the beginning when the inventory was taken (plus any additional purchases). It's important that the stock is counted accurately otherwise the results will be misleading and inaccurate. It is the responsibility of the Chief Cook to ensure that the inventories presented to Oceanic Catering are completely accurate. Inaccurate or "calculated" inventories will not be accepted and repeated false reports will be detrimental to future employment.

An inventory management system helps to ensure cost control. The inventory refers to the items available in storage. There are two types of inventory:

Physical inventories refer to counting the actual number of each item and is usually taken on the last day of each month.

Perpetual inventories are continuous records of what is bought and issued. If manual records are kept, the perpetual inventory will alert management concerning items that need to be recorded, and when. It will also inform them if any items are overstocked. Food and beverage costs are calculated as follows:

(VALUE OF OPENING INVENTORY + PURCHASING) – VALUE OF CLOSING INVENTORY = COST OF FOOD & BEVERAGE

Frequency of Inventory Taking

Physical Inventories should be taken:
at the end of each month.
before placing an order for additional stock. An inventory of the required stock must be taken and the results need to be included in the order list.
before the Chief Cook or Chief Steward are changed. An inventory must be carried out by both people. The handover form must be completed and signed by both crewmembers and the Master.






Related guideline
















Other info pages !

Ships Charterparties Related terms & guideline
Stevedores injury How to prevent injury onboard
Environmental issues How to prevent marine pollution
Cargo & Ballast Handling Safety Guideline
Reefer cargo handling Troubleshoot and countermeasures
DG cargo handling Procedures & Guidelines
Safety in engine room Standard procedures
Questions from user and feedback Read our knowledgebase
Home page




ShipsBusiness.com is merely an informational site about various aspects of ships operation,maintenance procedure, prevention of pollution and many safety guideline. The procedures explained here are only indicative, not exhaustive in nature and one must always be guided by practices of good seamanship.


User feedback is important to update our database. For any comment or suggestions please Contact us
Site Use and Privacy - Read our privacy policy and site use information.
//Home //Terms and conditions of use

Copyright © 2015 www.shipsbusiness.com All rights reserved.