Home page|| Tanker Notes || Container Ship Operations || Ocean Navigation ||


Measures to protect the vessel side against stevedores injury & stevedores damage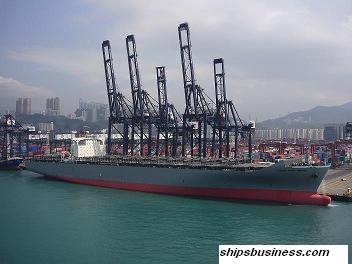 Container vessel cargo operations involve many complexities and careful consideration will need to be made for safe operation of her business. It is the responsibilty of the ship to take necessary measures to eliminate any potential danger in the working circumstances.

The procedures explained here are only indicative, not exhaustive in nature and one must always be guided by practices of good seamanship.




Stevedore damages to ship or cargo

Stevedore damage is often the cause of bad relations between Owners and Charterers. We therefore, cannot emphasise strongly enough to be on continuous guard for stevedore damages, and if damage occurs it must be immediately recorded, and acknowledged by the responsible party. Care should be exercised with regard to promises that damage reports may be signed at the end of the discharge/loading operation, as the person who gave such assurance may not be available and his substitute knows nothing about the matter.

It must be made clear, between the stevedore company and the Master, with the assistance of the agent, of the procedure to be followed in case of damage. This should be done before starting cargo operations by establishing:
Full style, name and address of stevedore company including email address or telex number.
If repairs will be carried out on the spot by stevedore's own/hired repairmen, (which is preferable), if repairs can be done in a proper way, or
If repairs will be carried out at a later stage in order to avoid unnecessary delay for the vessel. (Such papers must be very carefully prepared and should bear the stamp of the responsible company in addition to stevedore's signature.)
It is of the utmost importance to have a constant watch on deck, including inspection of the holds, in order to detect damages as quickly as possible, taking into consideration that one or two day old damages, may not be acknowledged by the stevedores.

At the time of occurrence of damage, please inform the management office and/or commercial operator as soon as possible. It must be stressed that the requested information is to be sent in writing in due time and prior to sailing.

Damages are to be recorded in the stevedore damage report with date/time, etc., and also in the logbook with date, time of occurrence, etc.

A stevedore damage report must be made out as follows
1 original to stevedore company
1 copy to the relevant management office
1 copy to remain on board
1 copy to charterers/their agents
In all cases the charterers are to be notified in writing




Related articles


Ships cargo operation in port -check item

Ship master's guideline for establishing deck watch in port

How to prevent smuggling onboard ?

Safe Mooring operation in port

Cargo ships preparation for entering in port

Cargo ships preparation for departure port

Cargo ships procedures for securing for sea

How to confirm closure of openings onboard ?







Other Info Pages
Home Our home page
Cargo stowage and planning How to plan effctively
Cargo care at sea Precautions to be taken
Reefer cargo handling Troubleshoot and countermeasures
DG cargo handling Procedures & Guidelines
Cargo securing Check items prior departure port
Safe navigation Various factors affecting ships navigation at sea
Hull strength & stability Prior loading how to ensure hull strength & stability of ship
Site Map Page listing for this site.
Site Use and Privacy - Read our privacy policy and site use information.
Contact us

Copyright © 2009 Ships business.com All rights reserved.





NOTE:
Shipsbusiness.com is merely an informational site about various aspects of ships operation,maintenance and onboard procedure. User feedback is important to update our database.For any comments or suggestions please contact us ''Support[at]shipsbusiness.com''