Home page|| Tanker Notes || Container Ship Operations || Ocean Navigation ||



Planning, monitoring and training for Cargo and Ballast Operations - Deck officers guidance

Cargo and ballast operation plans shall be carefully prepared and monitored on board. Such plans take the following into consideration Seasonal Load Line Zones, Port restrictions, Shipboard limits, e.g. Draft, Cargo capacity, Stability, Stresses, etc. Loading rates (Tankers) and are verified by Superintendents during ship visits.

On a dry-cargo or passenger ship, the ballast system is operated from the engine room. On a tanker, the entire ballast system is located within the cargo area and is operated from a pump room. Ballast piping is usually made of ordinary mild steel. A ship's size determines the capacity of its ballast system.

Ballast water violations
Deballasting in port can have serious administrative consequences if it is not done according to the rules. Although the International Convention for the Control and Management of Ships Ballast Water & Sediments (BWM Convention) is not yet in force, coastal states and local ports might have their own ballast regulations that must be followed.

Ballast lines and valves should be clearly marked and ballasting processes well documented. Double check all line-ups before pressing 'pump on'. It is always better to come clean with the truth in the first instance rather than weave a web of lies or let the error remain unreported. Reporting errors, close calls or minor incidents is the basis of a strong safety culture. Not reporting has the effect of undermining safety and 'doubling-down' on any unwanted consequences.


Checks should be made to ensure that ballast water is flowing into the designated tank. Crew members should also ensure that ballasting is stopped in a timely fashion in order not to over-pressurise or overflow ballast tanks.

Checks should also be made to ensure that ballast water is not leaking into any other tank or into a cargo hold through a leaking manhole cover.

Ballast tanks fitted with automatic sounding gauges should be regularly fully tested for accuracy of monitoring systems. Spot checks/manual soundings should be taken to ensure accuracy of the gauges.

Cargo hold bilge alarms and gauges should be regularly inspected, maintained and tested. Even if the vessel is fitted with cargo hold bilge alarms and automated sounding gauges, these cannot always be relied on to function properly and spot checks should therefore be made with manual soundings. It is also prudent to undertake regular visual inspection of the cargo spaces. The effectiveness of the non-return valves for bilge ejector systems should also be regularly tested and verified.

All manhole covers (ballast, fuel etc) in cargo holds should be regularly inspected and properly closed/tightened after every tank inspection

Responsibility

The Chief Officer shall be responsible for ensuring careful preparation of Cargo and Ballast operation plans and their implementation taking all relevant factors into consideration.

The Cargo and Ballast operation procedures ensure that adequate manning levels are maintained during such operation. ILO and STCW requirements for working hours and minimum rest periods shall be complied with.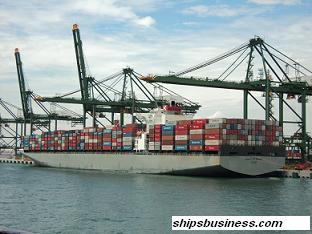 Cargo / Ballast Operation Plan

Regardless kind of merchant ships, the Cargo Operation Plan shall be prepared, taking into account, the following factors:

Cargo Information

Any restrictions

Ballasting / De-ballasting operations

Cargo Stowage

Trim and Draft of the vessel

Number of tanks that may be slack at any time (if applicable)

Any Bunkering and Storing operations

Communication systems agreed and tested before operations


Loading computer

Where a class approved loading computer is fitted onboard, testing of the system using standard conditions shall be carried out at least Every Three Months to confirm accuracy of operation. If another loading computer is in use on board, regular checks shall be made to compare computed cargo & stability results against standard conditions in the Trim & Stability Booklet to confirm accuracy of operation.

Any significant variance in results in comparison with standard conditions shall be reported to shore management for appropriate corrective action.


Hull stress

Hull stresses shall be carefully monitored during cargo and ballast operations onboard vessel. Loading computer is to be regularly updated for conditions on board.

Where possible, comparison of actual and calculated draft & trim is also to be carried out in order to obtain warning of any unplanned or unobserved deviation from plan. Undue stresses on the hull shall be avoided and stresses shall be maintained within stipulated limits at all times.


Training for Cargo and Ballast Operations

The Master shall ensure that where practicable, Junior officers are actively involved in all phases of the preparation and execution of Cargo and Ballast operation plan with special emphasis on:

Monitoring of Hull stresses including Shearing forces, Bending moments and Torsional stresses as applicable

Safety operation against any hazards on cargo handling

Cargo Loading / Discharging Plan

Guideline for reading Bay Plan and General Stowage Plan & Verification of any Special Cargo/ Containers stowage (For Container Ships)

Senior officers are encouraged to mentor their Juniors and provide them with on the Job Training in Cargo and Ballast operations. All such on the Job Training & Development shall be documented


Mooring procedures

Un-safe mooring or Defect on mooring systems shall cause the ship unexpected parting from the berth, which may lead Causality to Human, Ship and Shore facility.

If such accidents occur on Oil Tankers, it will give rise to severe accident, including Major Oil Pollution and Fire hazard.





Related Information

Ballast water management system

Oil pollution prevention method

General precautions for tankers

Tanker vessel safety guideline - Check items in oil tankers operation

Tanker vessel safety guideline - prior entering cold region

Tanker vessel safety guideline - controlling oil pollution

How to prevent oil spillage


Stranding handling checklist

How to request salvage contract for a stranded vessel

Handling the salvage of another ship,salvage report and towing arrangement

Requirement of towing arrangement in oil tankers, readyness, & training onboard

How to deal with ships power failure ? ....

Emergency Procedure for steering gear malfunction

How to deal with ships collision accident ? ....

What are the ships collision handling checklist? ....

What is gyro failure and countermeasures ? ....

How to detect fire and extinguish at an early stage ? ....

How to respond when ships power supply failed ? ....

Emergency procedure for ships power failure

How to prevent oil pollution after colliding with another vessel

Fighting fire and countermeasures after a collision incident

Stranding handling checklist after colliding with another vessel

Guideline for salvage operation after a collision accident

Guideline for salvage of another ship after collision accident

Emergency check items to find a missing crew Salvage remunerations - benifits of L.O.F. contract or daily hire basis contract Safe anchoring - planning and operational guidance for cargo ships

Collecting Information and Data for Passage Planning





Other info pages !

Ships Charterparties Related terms & guideline
Stevedores injury How to prevent injury onboard
Environmental issues How to prevent marine pollution
Cargo & Ballast Handling Safety Guideline
Reefer cargo handling Troubleshoot and countermeasures
DG cargo handling Procedures & Guidelines
Safety in engine room Standard procedures
Questions from user and feedback Read our knowledgebase






ShipsBusiness.com is merely an informational site about various aspects of ships operation,maintenance procedure, prevention of pollution and many safety guideline. The procedures explained here are only indicative, not exhaustive in nature and one must always be guided by practices of good seamanship.


User feedback is important to update our database. For any comment or suggestions please Contact us
Site Use and Privacy - Read our privacy policy and site use information.
Terms and conditions of use

Copyright © 2015 www.shipsbusiness.com All rights reserved.