Home page|| Tanker Notes || Container Ship Operations || Ocean Navigation ||



Catering for galley staff- garbage Management

Under Annex V of the MARPOL Convention, garbage includes all kinds of food, domestic and operational waste generated during the normal operation of the vessel. For centuries seafarers have thrown their garbage 'over the side'. However, the waste products of the past were in general made from natural materials which were biodegradable. Everyone working onboard is responsible for garbage management. Garbage must be disposed of strictly in accordance with the eVMS procedures, International and local laws. There is no exception to this rule. Galley staff must ensure all waste products generated by the galley are segregated and disposed of according to MARPOL.

MARPOL Annex V :

Revised MARPOL Annex V (entered into force on 1st January 2013) with a view to preventing pollution by garbage from ships. Key requirements are: it is prohibited to dispose of all garbage at sea unless permitted in the regulations severe restrictions on the distance from the nearest land where other types of ship-generated garbage can be thrown away the creation of 'Special Areas' which require special methods of garbage discharge.

Annex V also states that governments must ensure the provision of facilities at ports and terminals for receiving garbage (reception facilities).

Garbage Management Plan

Under Annex V, garbage means all kinds of food wastes, domestic wastes and operational wastes, all plastics, cargo residues, cooking oil, fishing gear and animal carcasses generated during the normal operation of the ship. Garbage is to be grouped into categories for the purposes of the garbage record book as follows.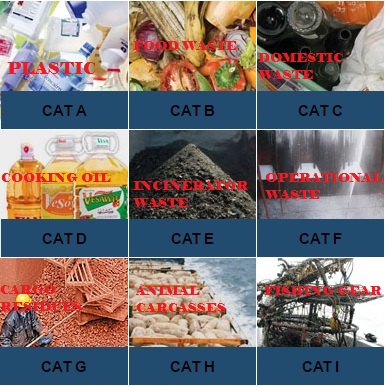 Garbage category


Garbage Management

It is the responsibility of each owner / operator and shipís crew that waste is managed and disposed of in ways that prevent harm from occurring. For this reason, and as per MARPOL Guidelines for Implentation of Annex V, all ships of 400 gross tonnage and above and every ship certified to carry 15 persons or more must carry a Garbage Management Plan that will include written procedures for collecting, storing, processing and disposing of garbage, including the use of equipment on board. The Garbage Management Plan should designate the person responsible for carrying out the plan and should be in the working language of the crew.

The recordkeeping element of MARPOL Annex V, Regulation 9 requires that every ship of 400 tons gross and above and every ship which is certified to carry 15 persons or more engaged in voyages to ports or offshore terminals under the jurisdiction of other Parties to the Convention and every fixed and floating platform engaged in exploration and exploitation of the sea-bed, shall be provided with a Garbage Record Book. The Garbage Record Book, whether as a part of the shipís official logbook or otherwise, shall be in the form specified in MARPOL Annex V.

For guidance and compliance with requirements, please consult your vesselís Garbage Management Plan and Company Safety Management System.

Food Waste Disposal

Disposal requirements of waste generally generated by the galley is shown in the table. Be aware that cooking oil must never be mixed with food waste, or discharged overboard.



Garbage category : time to dissolve at sea


Ship Waste

Ship waste can contain hazardous microbial, chemical or physical agents. As the number of vessels in service increases, so does the risk of harm from improperly managed ship wastes. Ship waste includes sewage, grey water (discard water from deck drains, showers, dishwashers and laundries), ballast water, medical wastes, food waste, etc. Food waste and refuse in particular can attract disease vectors such as rodents, flies and cockroaches. Unsafe management and disposal of ship wastes can lead to adverse health consequences both for shipís crew but also for other humans, the habitat and the environment.

Vessel General Permit

The United States of America have introduced stricter discharge limitations in a permit called the Vessel General Permit (VGP). When within 3 nm from the US shore you must use detergents and soaps which are: phosphate free (< 0.5% phosphates or derivates) non toxic non bio-accumulative. Clean dishes properly before rinsing to avoid food, oil and grease residue going into the grey water system. Do not add cooking oils into the grey or black water.





Related guideline
















Other info pages !

Ships Charterparties Related terms & guideline
Stevedores injury How to prevent injury onboard
Environmental issues How to prevent marine pollution
Cargo & Ballast Handling Safety Guideline
Reefer cargo handling Troubleshoot and countermeasures
DG cargo handling Procedures & Guidelines
Safety in engine room Standard procedures
Questions from user and feedback Read our knowledgebase
Home page




ShipsBusiness.com is merely an informational site about various aspects of ships operation,maintenance procedure, prevention of pollution and many safety guideline. The procedures explained here are only indicative, not exhaustive in nature and one must always be guided by practices of good seamanship.


User feedback is important to update our database. For any comment or suggestions please Contact us
Site Use and Privacy - Read our privacy policy and site use information.
//Home //Terms and conditions of use

Copyright © 2015 www.shipsbusiness.com All rights reserved.