Home page|| Tanker Notes || Container Ship Operations || Ocean Navigation ||





Container ship operation :Familiarization Training For Crew



All crew members onboard containership need to take all basic training as per STCW requirements prior to joining vessel. The Master shall give each new crew member familiarization training and instructions which must be understood to the crew member before commencement of duties onboard. The Master shall designate a qualified person in charge of training the new crew members.

The content of the familiarization training is highlighted below.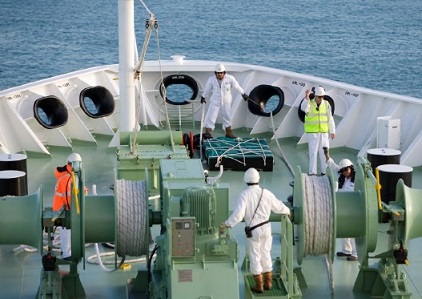 Ships mooring station


Common items for Elementary Basic Safety Familiarization

The person designated by the Master as trainer shall train the new crew member in the following areas using the ship's Muster Lists, SOLAS Training Manual, Fire Safety Operational Booklet and other relevant documents and publications.

Communication with other persons on board in Elementary Safety Matters and understanding of Safety Symbols and Signs and alarm signals.

Know what to do if :

• a person falls overboard
• fire or smoke is detected or
• the fire or abandon ship alarm is sounded
• Identify Muster and Embarkation stations and Emergency escape routes.
• Locate and don Life-jackets and Immersion suits.
• How to raise the alarm and basic knowledge of the use of Portable Fire Extinguishers.
• Take immediate action upon encountering an accident or a Medical Emergency before seeking further medical assistance.
• Closing and opening of the Fire, Weather-tight and Water-tight doors fitted on the ship other than those for hull openings.
• Locate own cabin, nearest escape route and Fire extinguisher.

Specific items for Familiarization in Each Duty

Ships mooring station may expose new joining crew to potential dangers if not proerly familiarized. If at all possible, the new crew member shall be introduced to his duties by the crew-member he is relieving. If this is not possible, the trainer will carry out such introduction.
This familiarization training shall be given before the new crew member is assigned shipboard duties and shall cover the following:

• The specific equipment the new crew member will be using or operating.
The trainee shall instruct the new crew member how to use or operate specific equipment with particular attention to those mentioned in "List of Duties for Crew" .
• Deck department: Bridge equipment, GMDSS equipment, Steering system, Mooring Equipment, Cargo gear & other equipment
• Engine department: Machinery which the new crew member will take in charge and other related Machinery in the engine room.
• Ship specific watch keeping duties.

If new crew members engage in the ship specific watch keeping, the trainer shall instruct them to comply with Procedures for Watch keeping in Port , Procedures for Navigational Watch keeping and Procedures for Watch keeping in Engine Room and others mentioned in the ship specific "Standing Orders".

Safety procedures and arrangements.

The trainer shall instruct the new crew member in the use of Safety and Protective equipment and to observe Safety measures at Workplace and handling of Fire onboard the ship in accordance with "Procedures for Management of Safety and Health Onboard".

Environmental protection.

The trainer shall instruct the new crew members how to handle Garbage and Waste generated on board the ship in accordance with "Procedures for Environmental Protection" .

Also trainer shall also instruct the new crew member on the ship's Garbage Management Plan and Ballast Water Management Plan.

Emergency procedures.

The trainer shall instruct the new crew members what actions must to be taken in an Emergency situation in accordance "Emergency Response" .

Initial Security Awareness Training.

The trainer shall instruct the new crew member as per requirements of the Ship Security Plan.



Onboard Training in use of LSA & FFA

Onboard training in the use of ship's life saving appliances including Survival Craft equipment and fire extinguishing appliances shall be completed as soon as possible but not later than 2 weeks after joining the ship.

The trainer shall conduct tour of the vessel along with the new crew member for familiarization training purposes.

Records of Familiarization Training

Upon completion of the familiarization training, the trainer shall confirm each of the above with date together with the crew member's signature in the "Onboard Familiarization Record" and submit it to the Master.

The Master shall check and sign the record and keep it on board the ship while the crew member is on board.



Related topics:

Shipboard organization - deck , engine & catering personnel






Other Info Pages
Home Our home page
Container Ship Operation Basic guidance
Cargo stowage and planning How to plan effctively
Cargo care at sea Precautions to be taken
Reefer cargo handling Troubleshoot and countermeasures
DG cargo handling Procedures & Guidelines
Cargo securing Check items prior departure port
Safe navigation Various factors affecting ships navigation at sea
Hull strength & stability Prior loading how to ensure hull strength & stability of ship
stevedores injury How to prevent injury onboard
Site Map Page listing for this site.
Site Use and Privacy - Read our privacy policy and site use information.
Contact us

Copyright © 2009 Ships business.com All rights reserved.