Home page|| Tanker Notes || Container Ship Operations || Ocean Navigation ||



Watertight doors as an additional safety measure for the ship

Watertight doors are often marketed as an additional safety measure for the ship, but it should be remembered that the bulkheads where the doors are fitted are required to be watertight. Any door or opening in such a bulkhead is thus a weakness in the watertight integrity of that bulkhead.

There must be clear instructions on board for how to operate and make use of the doors. The procedures must be consistent. There should be no difference between the procedures of the vessel's ISM code, instructions from management, captain's orders, instructions posted at the doors and on the bridge etc.

Crewmembers must be trained and should be warned about how the doors will react if in bridge control. There should be a clear understanding that when the alarm is sounding and the light is flashing when opening a door on location, the door is in bridge control and the door will then close automatically when releasing the operating handle

To distinguish this dangerous situation from the use of the door in normal mode "Local control", it is not recommended tohave an alarm for door movements in "Local control" mode. Awareness should also be raised to the fact that if a fault to the door system should occur, the door will close as if it was in bridge control.

The requirement that no person shall transit a power-operated door when it is moving must be enforced. Speed of door movements should not be tampered with by personnel on board thinking doors close too slowly. For electrical doors, it is difficult to change the speed, but it is far easier on hydraulically operated doors. A suggestion would be to seal the setting of the hydraulic pressure and to cover the installation.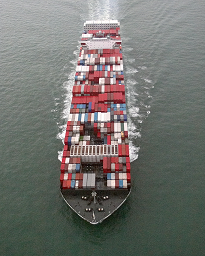 Related Topics

Draft, Trim and Heel affecting Hull Strength and Stability of containership

IMO Intact Stability Criterion for containership

Corrected GoM for Hull Strength and Stability of containership

Severe Wind and Rolling criterion affecting Hull Strength and Stability of containership

Visibility from Bridge affecting navigation of containership

Propeller immersion affecting navigation of containership

Shearing forces, Bending moments and Torsional moment affecting Hull Strength and Stability of containership






Other info pages !

Ships Charterparties Related terms & guideline
Stevedores injury How to prevent injury onboard
Environmental issues How to prevent marine pollution
Cargo & Ballast Handling Safety Guideline
Reefer cargo handling Troubleshoot and countermeasures
DG cargo handling Procedures & Guidelines
Safety in engine room Standard procedures
Questions from user and feedback Read our knowledgebase
Home page




ShipsBusiness.com is merely an informational site about various aspects of ships operation,maintenance procedure, prevention of pollution and many safety guideline. The procedures explained here are only indicative, not exhaustive in nature and one must always be guided by practices of good seamanship.


User feedback is important to update our database. For any comment or suggestions please Contact us
Site Use and Privacy - Read our privacy policy and site use information.
//Home //Terms and conditions of use

Copyright © 2015 www.shipsbusiness.com All rights reserved.