Home page|| Tanker Notes || Container Ship Operations || Ocean Navigation ||





Container Stowage Plan affecting hull strength & stability of ship



Shearing forces, Bending moments and Torsional moment
: When considering acceptability of a container cargo stowage plan, the following procedures/guidelines concerning hull strength & stability shall be taken into account:

Shearing forces, Bending moments and Torsional moments - These three predominant types of hull stresses affect container ships and vary due to changes in the distribution of weights on board (cargo, ballast and fuel).

Information on maximum allowable stresses at designated frames of the vessel is provided in the vessels loading manual and these maximum values must never be exceeded.

Stresses are usually expressed in terms of percentage with 100% being the ceiling limit. Hull stresses must be kept to the minimum as practicable and must never be allowed to exceed 100%. It is recommended that as far as possible, Hull stresses be maintained below 90% or thereabout.

This is especially applicable to container vessels having a larger length to breadth ratio (e.g. Panamax size container ships). Such ships are prone to stress cracks in the hull structure High stresses may be reduced by adjusting the vessels Ballast / Fuel condition.

If this does not result in bringing the stresses within required limits, the Terminal planner / Central planner must be informed and cargo stow plan appropriately modified.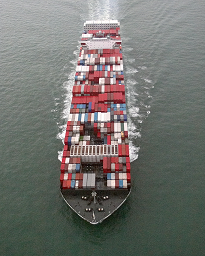 Related Topics

Draft, Trim and Heel affecting Hull Strength and Stability of containership

IMO Intact Stability Criterion for containership

Corrected GoM for Hull Strength and Stability of containership

Severe Wind and Rolling criterion affecting Hull Strength and Stability of containership

Visibility from Bridge affecting navigation of containership

Propeller immersion affecting navigation of containership

Other factors affecting Hull Strength and Stability as necessary





Other Info Pages
Home Our home page
Container Ship Operation Basic guidance
Cargo stowage and planning How to plan effctively
Cargo care at sea Precautions to be taken
Reefer cargo handling Troubleshoot and countermeasures
DG cargo handling Procedures & Guidelines
Cargo securing Check items prior departure port
Safe navigation Various factors affecting ships navigation at sea
Hull strength & stability Prior loading how to ensure hull strength & stability of ship
stevedores injury How to prevent injury onboard
Site Map Page listing for this site.
Site Use and Privacy - Read our privacy policy and site use information.
Contact us

Copyright © 2009 Ships business.com All rights reserved.






Our articles are based on various shipboard activities,safe operation,maintenance and onboard procedure. User feedback is important to update our database.For any comments or suggestions please contact us ''Support[at]shipsbusiness.com''





Stacking Weights Restrictions

Lashing strength calculation

Dangerous goods stowage and segregation

Reefer Container Stowage