Home page|| Tanker Notes || Container Ship Operations || Ocean Navigation ||



Container Stowage Plan affecting hull strength & stability of ship

Particular attention must be paid to the hydrodynamic design of container ships which operate at high cruising speeds. The tall, heavy deck loads cause problems with righting capacity. In order to ensure adequate stability, most all-container ships thus have to carry special solid or liquid ballast and/or be broader amidships.

The capsize risk of the vessels can be kept within acceptable limits by high values of the roll moment of inertia. Large ballast capacities and high power pumps are absolutely essential, both for trimming the ships and for offsetting longitudinal bending moments. Shipbuilders can tailor characteristics by selecting appropriate ratios between length, beam, molded depth, draft and other dimensions.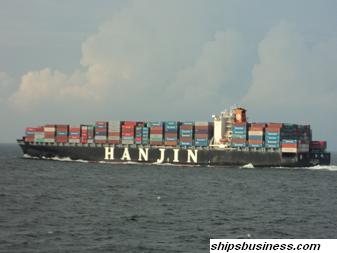 The deadweight and hold capacity of container ships may also be stated in metric tons and cubic meters. The number of available slots for 20' or 40' containers, however, is more meaningful. TEU means "Twenty foot Equivalent Unit", while FEU means "Forty foot Equivalent Unit".

Standard loading conditions

Loading conditions to be examined for the purpose of assessing whether the stability criteria are met. For a cargo ship the standard loading conditions are as follows
Ship in the fully loaded departure condition with cargo homogeneously distributed throughout all the cargo spaces and with full stores and fuel.
Ship in the fully loaded arrival condition with cargo homogeneously distributed throughout all the cargo spaces and with 10% stores and fuel.
Ship in ballast in the departure condition without cargo but with full stores and fuel.
Ship in ballast in the arrival condition without cargo and with 10% stores and fuel remaining.
When considering acceptability of a container cargo stowage plan, the following factors/guidelines concerning hull strength & stability shall be taken into account:


Draft, Trim and Heel

IMO Intact Stability Criterion

Corrected GoM

Severe Wind and Rolling criterion

Visibility from Bridge

Propeller immersion

Shearing forces, Bending moments and Torsional moment

Other factors affecting Hull Strength and Stability as necessary



Container handling more info pages:























Confirmation and record of securing

The following checklists shall be used to confirm the securing condition:

Cargo ships preparation for sailing

Checklist for Navigation in Heavy weather

Checklist for Departure

How to maintain Water tightness, Seaworthiness, Fire integrity and Security of ship ?

Securing your vessel for sea passage - when to check and what to check

Confirming stability & hull strength prior sailing

Collecting Information and Data for Passage Planning




Various Cargo handling

2 in 1 container operation in cargo hold

How to load 45 feet containers

Container damage in ''2 in 1'' cargo Operation



Containership operation detail procedure





Read more......































Other info pages !

Ships Charterparties Related terms & guideline
Stevedores injury How to prevent injury onboard
Environmental issues How to prevent marine pollution
Cargo & Ballast Handling Safety Guideline
Reefer cargo handling Troubleshoot and countermeasures
DG cargo handling Procedures & Guidelines
Safety in engine room Standard procedures
Questions from user and feedback Read our knowledgebase
Home page




ShipsBusiness.com is merely an informational site about various aspects of ships operation,maintenance procedure, prevention of pollution and many safety guideline. The procedures explained here are only indicative, not exhaustive in nature and one must always be guided by practices of good seamanship.


User feedback is important to update our database. For any comment or suggestions please Contact us
Site Use and Privacy - Read our privacy policy and site use information.
//Home //Terms and conditions of use

Copyright © 2015 www.shipsbusiness.com All rights reserved.