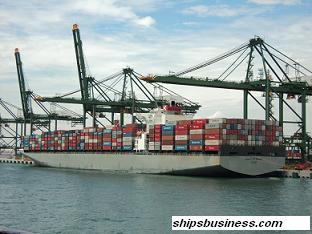 Fig :Container ship loaded condition
4. Confirmation of draft , stability and hull strength as per
"Procedures for Confirming draft , stability and hull strength
5. Confirmation of water tightness of openings as per
"Procedures for Confirming Closure of Openings
6. Confirmation of necessary legal documents, trading certificates and port clearance
7. Completion of cargo and related work including lashings
8. Disembarkation of labors/ stevedores/ terminal personnel / agent etc
9. Confirmation of securing or lashing of movable objects
10. Completion of repairs and disembarkation of workers/ contractors/ technicians etc
11. Disembarkation of all visitors & collection of passes issued to visitors, any missing passes reported to SSO
12. Stowaway search carried out (as per SSP search cards)
13. Engine Room given adequate (at least 1 hour) notice for preparing M/E / Bow Thruster
14. Confirmation of readiness for main engine trial (condition of gangway, bow and stem, manifolds, and others)
15. Stations for departure planned & crew advised of Stand-By time
16. Confirmation of power supply & operation of winches and windlass
17. Passage Plan for intended voyage prepared and signed
18. All charts and publications for voyage up to date and courses laid
19. Latest weather forecast and navigational warnings for area at hand
20. Tidal calculations for departure ready
21. Main Engine tried out ahead and astern, correct print-out on telegraph logger (where fitted)
22. Confirmation of binoculars and daylight signal lights
23. Preparation of Pilot card and information exchange and bell book
24. Ships clocks checked and synchronized, including with E/R
25. Steering gear tested individually and as per SOLAS V/26
26. AIS correctly set to sea mode (transmission power, etc) & ship data updated. SVDR status checked - NO ALARMS
27. Bow Thruster tried out (where fitted)
28. Compass repeaters aligned (incl. in strg flat where fitted)
29. Gyro error checked and magnetic compass illuminated
30. Whistle tried out (unless prohibited)
31. Radars on standby (operational only when permitted by port), speed input set for ARPA through water
32. Echo sounder switched on / Zero alignment done / annotated
33. Confirmation of VHF channel in use
34. Navtex receiver set to correct station & information checked
35. "Course Recorder checked for paper and time/course synchronization, and annotated"
36. GMDSS equipment switched on and functional
37. Navigation lights switched ON and tested
38. Other equipment checked
39. Confirmation of meeting with the Pilot about passage plan
40. Sailing report required by Port Regulations including notification to VTS if applicable
41. Confirmation for watch schedule
42. Fire detection system operational
Related articles
Collecting Information and Data for Passage Planning
Securing your vessel for sea passage - when to check and what to check
Confirming stability & hull strength prior sailing

Other info pages !
Ships Charterparties
Related terms & guideline
Stevedores injury
How to prevent injury onboard
Environmental issues
How to prevent marine pollution
Cargo & Ballast Handling
Safety Guideline
Reefer cargo handling
Troubleshoot and countermeasures
DG cargo handling
Procedures & Guidelines
Safety in engine room
Standard procedures
Questions from user and feedback
Read our knowledgebase
Home page

ShipsBusiness.com is merely an informational site about various aspects of ships operation,maintenance procedure, prevention of pollution and many safety guideline. The procedures explained here are only indicative, not exhaustive in nature and one must always be guided by practices of good seamanship.


User feedback is important to update our database. For any comment or suggestions please Contact us
Site Use and Privacy - Read our privacy policy and site use information.
//Home //Terms and conditions of use

Copyright © 2015 www.shipsbusiness.com All rights reserved.