Home page|| Tanker Notes || Container Ship Operations || Ocean Navigation ||



Purpose of ships planned maintenance system and how to use it

The purpose of the planned maintenance system is:

• To ensure that all maintenance is carried out with adequate intervals, and in accordance with the schedule in the planned maintenance system.

• To maintain and keep all engines, machinery and technical components in good working order at all times, to avoid stoppages and to maintain charter party speed and consumption requirements.

• To avoid interruption and oversight of work by covering all of the work.

• To make clear demarcation between onboard and shore maintenance work.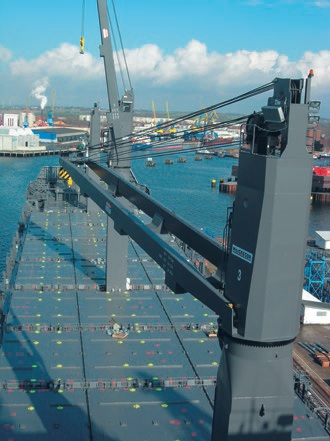 Containership mounted with deck crane



How To Use

• The "Planned Maintenance System" shall be under the supervision of "Onboard Management & Maintenance Committee."

• The Chief Engineer, Chief Officer or First Engineer shall record the results of maintenance and inspection .

• The completed Data of "Planned Maintenance System" of both deck department and engine department shall be approved by chief officer and chief engineer respectively then checked by the Master, and submitted to the Technical Superintendent in charge accompanied with the vessel's comments for improvements every month.

• The Technical Superintendent in charge shall ensure that the "Planned Maintenance System" is working in order and shall respond to the vessel's comments with relevant instructions.

• The maintenance intervals of each article in the system can be adjusted when necessary; the vessel shall request the Technical Superintendent in charge with the established form.

Composition of "Planned Maintenance System"

The system is composed of deck department and engine department. The deck department covers cargo related, radio related and catering related equipment.



Related Topics

Safety equipments check points on board cargo ships

Garbage management plan for cargo ships







Other info pages !

Ships Charterparties Related terms & guideline
Stevedores injury How to prevent injury onboard
Environmental issues How to prevent marine pollution
Cargo & Ballast Handling Safety Guideline
Reefer cargo handling Troubleshoot and countermeasures
DG cargo handling Procedures & Guidelines
Safety in engine room Standard procedures
Questions from user and feedback Read our knowledgebase
Home page




ShipsBusiness.com is merely an informational site about various aspects of ships operation,maintenance procedure, prevention of pollution and many safety guideline. The procedures explained here are only indicative, not exhaustive in nature and one must always be guided by practices of good seamanship.


User feedback is important to update our database. For any comment or suggestions please Contact us
Site Use and Privacy - Read our privacy policy and site use information.
//Home //Terms and conditions of use

Copyright © 2015 www.shipsbusiness.com All rights reserved.