Home page|| Tanker Notes || Container Ship Operations || Ocean Navigation ||





Avoiding wet damage by hold bilges on board container ship



Water entered into vessel cargo holds may cause wet damage to the cargo inside containers especially stowed on the bottom, unless the bilge water is drained in a proper and swift manner.

Regular sounding of bilge well or monitoring bilge alarm must be one of very important or rather basic routine jobs on board. However this job requires special attention on board. All bilge alarm need to be tested regularly.

Hold bilge systems

Prior to loading a bulk or general cargo, crewmembers should always conduct inspection of the hold bilge systems in order to ensure that everything is in good working order.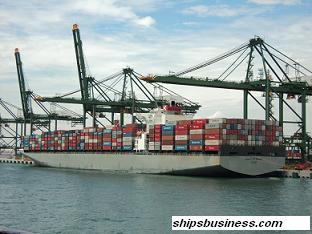 Fig: Container ship loaded condition


Debris from most bulk and general cargoes often finds its way into the hold bilge areas and should be removed manually. After cleaning the bilge area, it is important that the bilge sounding pipes, bilge suctions and bilge non return valves are tested and verified as working correctly.

Sounding pipes often get blocked and become unusable as a result of cargo residues being left in the bilge well and entering the bottom of the sounding pipe, where over a period of time the cargo residue dries out and solidifies. This problem can be prevented if the sounding pipes are hosed out with water from deck level after the hold has been washed and bilges have been cleaned. Alternatively an airline can be used to clear out blocked sounding pipes.



Broken sounding rods left in the sounding pipe are also a problem; therefore it is essential that they be removed on time. Sounding caps left off or not fully secured during loading or discharging operations increase the risk of cargo entering the sounding pipe and causing a blockage. Striking plates for the sounding pipes are situated in the hold bilge well and should be checked for wastage when the bilges have been cleaned.



Related articles

2 in 1 container operation in cargo hold









Other Info Pages
Home Our home page
Container Ship Operation Basic guidance
Safe navigation Various factors affecting ships navigation at sea
Hull strength & stability Prior loading how to ensure hull strength & stability of ship
stevedores injury How to prevent injury onboard
Site Map Page listing for this site.
Site Use and Privacy - Read our privacy policy and site use information.
Contact us

Copyright © 2009 Ships business.com All rights reserved.






Our articles are based on various shipboard activities,safe operation,maintenance and onboard procedure. We welcome any feedback from our visitors. For any comments or suggestions please contact us.




Cargo stowage and planning How to plan effctively
Cargo care at sea Precautions to be taken
Reefer cargo handling Troubleshoot and countermeasures
DG cargo handling Procedures & Guidelines
Cargo securing Check items prior departure port