Home || Tanker Safety || Container Ship Handling || Commercial Management || EMS ||
Cargo ships engine breakdown in a seaway -How to deal with engine trouble
To achieve the economy of scale shipping industry saw some dramatic increase in ship size and capacity over the years as vessels are getting bigger, so do their engine. However, any major breakdown of such gigantic engines got consequences. Machinery trouble at sea now a growing concern for ship operators. If a ship failed to maintain her itinerary due to unexpected engine failure, it incurs substantial financial losses to ship operators. Surging repair cost and additional time needed to complete an unscheduled repair giving rise to insurance claims. The ultimate result is a negative impact on the shipowners' business reputation. To minimize losses to all concerned a prudent shipmaster, therefore, need to apply his best judgment while adopting emergency measures . We have summarized below some key points that might be useful.



Engine trouble at sea- What can be done immediately?

Alert other nearby vessels using the whistle, VHF, Lights, or Shaped objects for Not Under Command. When the vessel is still capable of sailing ( or has steerage), move to a safe place first. Use the rudder and bow thruster to best navigational advantage. Then, anchor or drift around for repairs. When drifting, select a place away from the shore or a sea route, taking into consideration the effects of ocean and tidal currents, wind, and waves. When anchoring in deep waters, take the winding ability of the windlass into consideration.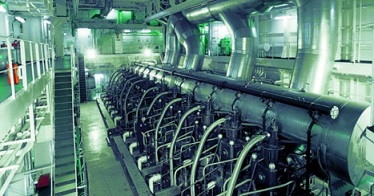 Towing or assistance of tug

A salvage contract should be concluded based on instructions form the Company, except when danger such as stranding is impending. When there is no time to wait for the owner's decision, but a tug boat is ready to render assistance, as far as possible, it should be done on a salvage contract in compliance with Lloyds Open Form (LOF) . A mere towage contract with the Tug company should be avoided. There was a case reported when the vessel had become unable to operate immediately after leaving the port and had the assistance of a tug boat for leaving the quay. Later on, the tug company charged some extraordinary rescue expenses to the shipowner. To avoid such trouble, specify that it is important to confirm the contents of the contract before starting work.

Damage report

A damage report should be submitted as soon as possible to the management office. Sketches should be used wherever useful and possible. Damage report should include details of incidence and if any shore assistance required. Give early notice if any critical spare/ stores necessary to complete the repair job. When it is determined that it is impossible to repair the damage at sea, the management company should be contacted immediately for the necessary arrangements for shore assistance. When under a time charter contract, engine trouble immediately places the vessel on off-hire. All communication with the Charterers should be carried out via the management company.

Deviation for repair

When temporary calling to a port other than a destination port for repair or moving to a safe place for repair at sea, record carefully the exact deviation Start and Completion Times, and the ROB of Fuel oil (FO / DO), etc. The deviation report shall be completed in consultation with the management office.

Use of anchors

In water too deep for an anchor to reach the bottom, lowering the anchor or anchors to about 60 fathoms will reduce downwind progress. The anchor and cable may have the effect of a drogue or sea anchor and should help to keep the ship"s head into the weather. It should be noted that recovering 60 fathoms of cable and anchor should be possible, as this amount is generally within most windlasses' design capabilities. Once the ship is in a water depth where the anchor can find the bottom, the use of anchors to arrest the ship"s movement should be attempted. If the bottom is sand or mud, it may be possible for the ship"s movement to be slowed or even stopped completely by slowly lowering the anchor until it begins dragging along the bottom.

For larger ships, the scope of the chain should be short at first and later it should be gradually increased as the ship"s speed decreases. This action should bring the ship"s head into the weather and slow her speed over the ground. The chance of successfully using anchors on a rocky bottom is much lower but should be attempted if this is the only alternative. If disablement is limited to loss of steering, careful use of the engines may enable the ship to carry out his operation with a much better chance of success. Also, use of the engines can enable the ship to maintain a safe position if the weather causes the anchor(s) to drag.

For a large tanker of more than 150,000 tonnes dwt, the anchoring system normally can stop a ship with a maximum speed over the ground of about 0.5 knots and a length of cable between 6 to 10 times the water depth, in good holding grounds. These anchor systems can normally withstand a 60-knot wind without current or waves if an ordinary stockless anchor is used, or a 60-knot wind with a 2 to 3 knot current and waves of up to 6 meters if a high holding power anchor is used.

Anchors should be made ready for use at the earliest opportunity. Deteriorating conditions may prevent or delay this action from being taken at a later time. The fear should not cloud any decision to lower anchors that they may be lost if they cannot be raised later.



Related Information

How to deal with ships power failure ? ....

Emergency Procedure for steering gear malfunction

How to deal with ships collision accident ? ....

What are the ships collision handling checklist? ....

What is gyro failure and countermeasures ? ....

How to detect fire and extinguish at an early stage ? ....

How to respond when ships power supply failed ? ....

Emergency procedure for ships power failure

How to prevent oil pollution after colliding with another vessel

Fighting fire and countermeasures after a collision incident

Stranding handling checklist after colliding with another vessel

Guideline for salvage operation after a collision accident

Guideline for salvage of another ship after collision accident

Emergency check items to find a missing crew Salvage remunerations - benifits of L.O.F. contract or daily hire basis contract



More shipboard operation and safety matters


Safe anchoring - planning and operational guidance for cargo ships

Anchor watch check item - deck officers guideline ....

How to deal with a damaged anchor? ....

How to recover a lost anchor ? ....

What is stranding ? Investigation of possibility of self-refloating and urgency of danger ....

What are the emergency procedures for loss of anchor and chain? ....

In case of damage to anchor and chain when to claim for '' general average"? ....

Ships arrival in ports - check item prior entry

Ships navigation in restricted visibility check items

Rules of ships navigation in restricted visibility

Ships navigation in confined water - matters that require attention

Securing your vessel for sea passage - when to check and what to check

Collecting Information and Data for Passage Planning








Other info pages !

Ships Charterparties Related terms & guideline
Stevedores injury How to prevent injury onboard
Environmental issues How to prevent marine pollution
Cargo & Ballast Handling Safety Guideline
Reefer cargo handling Troubleshoot and countermeasures
DG cargo handling Procedures & Guidelines
Safety in engine room Standard procedures
Questions from user and feedback Read our knowledgebase






ShipsBusiness.com is merely an informational site about various aspects of ships operation,maintenance procedure, prevention of pollution and many safety guideline. The procedures explained here are only indicative, not exhaustive in nature and one must always be guided by practices of good seamanship.


User feedback is important to update our database. For any comment or suggestions please Contact us
Site Use and Privacy - Read our privacy policy and site use information.
Terms and conditions of use

Copyright © 2015 www.shipsbusiness.com All rights reserved.