Home page|| Tanker Notes || Container Ship Operations || Ocean Navigation ||



Ships arrival in ports - check items prior entry

Any prudent navigator will make arrangements and basic preparation prior entering in a port. Summarized below are some basic check items . These procedures are only indicative, not exhaustive in nature and one must always be guided by practices of good seamanship.

1) Considered port/passage information and weather/tidal conditions

2) Adjusting draft and trim (considering restrictions at arrival port)

3) Reporting arrival information (ETA, VTS, JASREP, AMVER, AUSREP, etc)

4) Confirmation of berth information (which side to alongside pier, gangway, mooring lines, manifold size, etc)

5) Parallel operation of steering gear power units

6) Testing of steering as per SOLAS V/26 (enter in logbook)

7) Marking (port/voy no/ships time) and adjustment (chart speed/depth etc) of course recorder / echo sounder and confirmation of recording paper

8) Communication tests between Bridge and Steering Gear Room

9) Tests of main engine ahead and astern (entry in logbook)

10) Working tests of bow thruster if fitted (bridge & wing controls)

11) Confirmation and necessary adjustment of nautical instruments(Radar, ARPA(mapping etc), GPS, Log, AIS etc)

12) Confirmation of synchronizing between repeaters and master compass

13) Confirmation of indication and illumination of magnetic compass

14) Synchronization of ships clocks, including with E/R

15) Confirmation of record paper and time adjustment of engine telegraph logger

16) Confirmation of correct VHF channel in use

17) Preparation of lights, shapes, flags, etc. Confirmation of daytime signal light (Aldis Lamp)

18) Preparation of pilot card and master pilot information exchange and bell book

19) Indication of tides, times of sunrise and sunset, and draft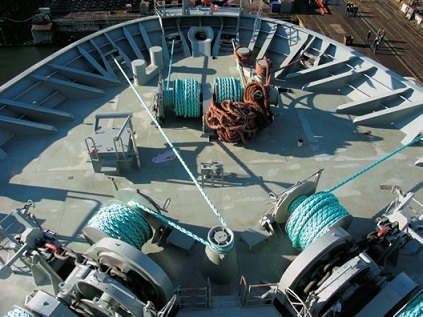 Fig: Anchor & mooring deck


20) Preparation of pilot ladder

21) Anchors are in a state of readiness (complying with port/terminal requirements)

22) Confirmation of preparation & operation of mooring winches and windlass (Including remote operation system if fitted) & communication with stations

23) Confirmation of safety of working circumstances, and readiness of cargo work equipment

24) Port Security & Contact information confirmed and prepared as per the SSP

25) Master shall have a meeting with Pilot about passage plan


Go/No Go Situation

Prior to port departure, or port entrance, the Master must decide whether the vessel is a 'go' or 'no go' situation. Making this decision, involves assessing the risks including:-
Prevailing weather and sea state conditions
Equipment condition
Other circumstances relating to the vessel's or cargo condition
Examples of No-Go Situation include:-
Critical Equipment or Machinery not working.
Vessel un-seaworthy
Adverse weather conditions where the safety of the crew, vessel or cargo would be at risk.
The office is to be advised in the event of a 'no go' situation.





Related information

Ships departure check items



More shipboard operation and safety matters


Safe anchoring - planning and operational guidance for cargo ships

Anchor watch check item - deck officers guideline ....

How to deal with a damaged anchor? ....

How to recover a lost anchor ? ....

What is stranding ? Investigation of possibility of self-refloating and urgency of danger ....

What are the emergency procedures for loss of anchor and chain? ....

In case of damage to anchor and chain when to claim for '' general average"? ....

Ships arrival in ports - check item prior entry

Ships navigation in restricted visibility check items

Rules of ships navigation in restricted visibility

Ships navigation in confined water - matters that require attention

Securing your vessel for sea passage - when to check and what to check

Collecting Information and Data for Passage Planning









Other info pages !

Ships Charterparties Related terms & guideline
Stevedores injury How to prevent injury onboard
Environmental issues How to prevent marine pollution
Cargo & Ballast Handling Safety Guideline
Reefer cargo handling Troubleshoot and countermeasures
DG cargo handling Procedures & Guidelines
Safety in engine room Standard procedures
Questions from user and feedback Read our knowledgebase






ShipsBusiness.com is merely an informational site about various aspects of ships operation,maintenance procedure, prevention of pollution and many safety guideline. The procedures explained here are only indicative, not exhaustive in nature and one must always be guided by practices of good seamanship.


User feedback is important to update our database. For any comment or suggestions please Contact us
Site Use and Privacy - Read our privacy policy and site use information.
Terms and conditions of use

Copyright © 2015 www.shipsbusiness.com All rights reserved.