Home page|| Tanker Notes || Container Ship Operations || Ocean Navigation ||



Ballast water management - USCG final rules

IMO type approved Ballast Water Management Systems do not meet USCG requirements. The USCG adopted its own type approval protocol as there were concerns about the IMO approval process meeting the D-2 standard. The USCG final rule requires vessels to treat ballast water with a USCG type approved system. The USCG Regulations 33 CFR Part 151 and 46 CFR Part 162 entered into force on 21 June 2012.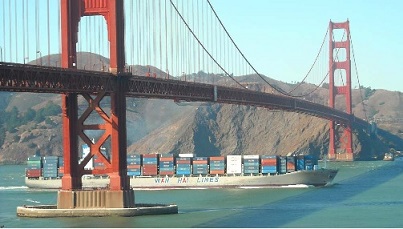 Approaching US water


USCG Final Rule - The Key Points

If your ship operates in US waters, you must comply with the USCG Final Rule.

Implementation : U.S. territorial sea - 12 nautical miles. Applicability : Sea-going vessels previously required to conduct Ballast Water Exchange.Coastwise vessels that do not operate outside the US Exclusive Economic Zone (EEZ) that:
take on and discharge ballast water in more than one Captain of the Port (COPT), and;
are greater than 1600 gross register tons (GRT).
Great Lakes:: Vessels over 1600 GRT that depart the Great Lake, transit beyond Anticosti Island and return and pass upstream of Snell Lock, aka "Salties."

Exemption : i)Crude oil tankers engaged in coastwise trade.
ii)Any vessel of the US Armed Forces.
iii)Any warship, naval auxiliary, or other vessel owned or operated by a foreign state currently used for government or non-commercial service.
iv)Deviation from planned voyage (as per 33 CFR 151.2055)
v)For full list of exemptions refer to: 33 CFR 151.2015.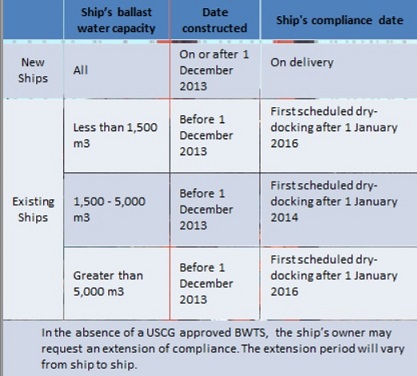 Ballast water management USCG Final Rule Jurisdiction


Jurisdiction : See table below

Standards : Same as IMO Convention, Regulation D-2. Ballast water exchange at sea is not considered an ideal method of Ballast Water Management, however efforts are being made to develop treatment methods to comply with the BWM Convention Regulation D-2 Regulation D-2 specifies that treated and discharged ballast water must be within the limits set in the table.

Testing : The USCG protocol requires that systems be tested by a USCG approved independent laboratory in both land-based and shipboard testing environments.

Ballast operations and monitoring :On March 28, 2013, the U.S. Environmental Protection Agency (EPA) signed the final 2013 National Pollutant Discharge Elimination System (NPDES) Vessel General Permit (VGP).

USCG Compliance Options:There are a number of options on how to comply with the USCG Final Rule.
Ballast Water Exchange :A vessel may conduct Ballast Water Exchange outside the US EEZ, more than 200nm from shore if she has not installed a BWTS by the original compliance date or has been granted an extension by the USCG. This option is only applicable up to the specified compliance date or its extension. The vessel however will not be required to unreasonably deviate from its voyage or delay the voyage in order to meet the exchange requirement (unless bound for the Great Lakes or Hudson river or other US protected waters (per VGP Appendix G).
Retain ballast water on board.
Discharge ballast water to a reception facility.
Use water from a US Public Water System (PWS) on condition that the ballast tanks have been cleaned, residual sediments removed and: i)untreated water is not subsequently introduced or ii)untreated water has never been introduced to the tanks and supply lines.
Install a USCG approved Ballast Water Management System or as a temporary alternative: Use an Alternative Management System which can be used for up to 5 years from the vessel's USCG compliance date. Request an extension to the compliance date if there is a justifiable reason why a USCG system cannot be fitted.


Alternative Management Systems

An Alternative Management System (AMS) is a temporary USCG designation given to a ballast water treatment system approved by a foreign administration in accordance with the BWM Convention.

FAQs to find out more about an AMS.


Is an AMS the first step to gaining USCG Approval for a Ballast Water Management System?
- No. An AMS is a temporary measure to manage ballast water discharge in lieu of Ballast Water Exchange.
How long is the approval period to use an AMS ?
- Five years from the ship's compliance date with the USCG Final Rule.
Does a Ballast Water Management System need to have an AMS designation before being submitted for USCG Type Approval
- No.
Can a ship owner apply for an extension to the ship's compliance date if the ship is using an AMS?
- Yes, an AMS does not prohibit the ship from receiving an extension to the compliance date.



USCG Type Approval

Type Approval is the primary process for Ballast Water Management Systems to receive USCG approval. The USCG regulations specifically require Ballast Water Management systems to be evaluated based on their ability to kill certain organisms. A list of approved USCG Ballast Water Management systems can be found on the USCG website.

The Vital Stain Method

The USCG use the Vital Stain Method to analyse the number of viable organisms in the sample. The Environmental Technology Verification (ETV) staining method (vital stain method) uses a combination of two fluorescein-based stains (FDA and CMFDA) to evaluate the status of organisms in the 10 – 50 µm size class in ballast water samples. The stains will penetrate into organisms, where functional esterases will convert them into fluorescent products that are retained by cellular membranes. Using epifluorescent microscopy, fluorescing organisms are enumerated as "living".

In what ways does the USCG Type Approval process differ from the IMO Type Approval Process? The IMO basis of evaluation is to assess the viability of an organism to colonise after treatment. The USCG evaluates the system's capacity to kill certain organisms. The IMO uses the Most Probable Number method. The USCG uses the Vital Stain method.



Related info :













Other articles

Notes on Oily Water Separators / Oil Record Books

Pollution by other harmful substances & harmful packaged goods

Garbage management plan

Pollution by sewage [ Marpol annex IV ]

Pollution of air [ Marpol annex VI ]

Prohibition on use of harmful (TBT) anti-fouling paints

Prevention of pollution while carryiung out overboard maintenance

Environment friendly purchasing

Decommissioning / ship recycling

Environmental awareness

Burning Of Diesel and Heavy Fuel Oil -Impacts on environment



Safety equipments check points on board cargo ships

Garbage management plan for cargo ships







Other info pages !

Ships Charterparties Related terms & guideline
Stevedores injury How to prevent injury onboard
Environmental issues How to prevent marine pollution
Cargo & Ballast Handling Safety Guideline
Reefer cargo handling Troubleshoot and countermeasures
DG cargo handling Procedures & Guidelines
Safety in engine room Standard procedures
Questions from user and feedback Read our knowledgebase
Home page




ShipsBusiness.com is merely an informational site about various aspects of ships operation,maintenance procedure, prevention of pollution and many safety guideline. The procedures explained here are only indicative, not exhaustive in nature and one must always be guided by practices of good seamanship.


User feedback is important to update our database. For any comment or suggestions please Contact us
Site Use and Privacy - Read our privacy policy and site use information.
//Home //Terms and conditions of use

Copyright © 2015 www.shipsbusiness.com All rights reserved.