'



Home page|| Tanker Notes || Container Ship Operations || Ocean Navigation ||



Most common ballast water treatment systems used for Ballast Water Management

Ballast Water Treatment Systems must comply with the BWM Convention and can be categorised by technology, biology, capacity, costing, size, regions and regulations. The system can use a combination of mechanical, physical and chemical/biocide methods to comply with the BWM Convention.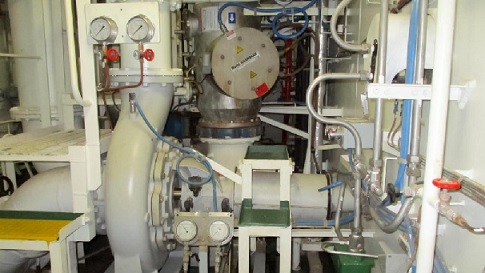 Ballast water treatment system


Active Substances used during chemical/biocide treatments must be readily degradable or removed from the ballast water to limit their effect on the environment. There are three fundamental treatment technologies which may be combined into one system.
Mechanical Treatment : Cyclonic separation (hydrocyclone) & Filtration
Chemical Treatment and Biocides: Chlorination, Chlorine dioxide, Advanced oxidation, Residual control ( sulphite/bisulphate)& Peraclean Ocean
Physical Disinfection : Coagulation / flocculation, Ultrasound, Ultraviolet, Heat, Cavitation, Deoxygenation, Electro-chlorination / electrolysis, Electro-catalysis& Ozonation
Research is still being conducted into above methods, although it is agreed that any treatment must be safe, environmentally acceptable, cost-effective and must meet the standards set out by the IMO or the USCG

Two Stage Treatment

Most ballast water treatment systems use a two-stage approach. Stage 1 :Typical components:
Large Fine mesh filter with automatic back flushing downstream of the Ballast pumps
Back flushing system for Filters
Cyclonic separation has proven to be less effective than filtration, most treatment options now feature a filter as the mechanical separation component.



Ballast water treatment two stages


Stage 2 :Physical
UV – suitable for vessels with large spare generating capacity or low capacity ballast systems. UV systems can become impractical at larger flow rates due to the large footprint of the equipment.
Many systems use lamps containing mercury, these should only be handled by trained and qualified personnel. Typical components include:
UV reactor
cleaning in place systems
measuring and metering system.

Chemical Injection is suitable for larger vessels or vessels with less spare generating capacity. Typical components include:
chemical mixing and dosing system
neutralising system
measuring and metering system.
Example of Ballast Water Treatment System

This ballast water treatment system shown in diagram uses a filter and UV reactor to treat ballast water. The system comprise of mechanical (filter) and physical (UV reactor).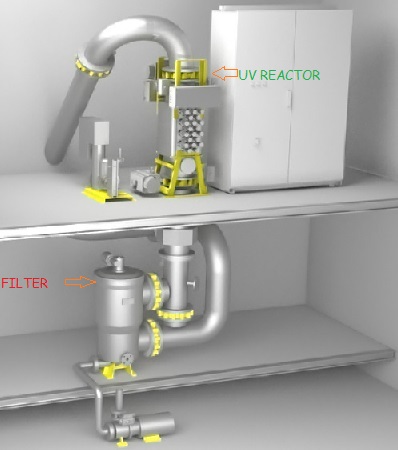 Ballast water treatment system components


Such systems are mostly self contained once installed and have the following characteristics:
Only a small amounts of cleaning chemicals are required.
Filters, UV Reactors and Ultrasound Treatment units need to be fitted directly into the ballast pipework and treat the full ballast flow.
In line components can be large and need space to be installed. This must allow for the large radius pipe bends.
Contain Cleaning In Place (CIP) units to clean the UV lamps glass cage to maintain UV intensity and reactor performance. Some systems uses the flow of water through the chamber to clean.
Power is maintained from a Lamp Drive Cabinet, or a similar large power cabinet which is usually situated in the same compartment as the reactor.
Chemical Treatment and Biocides These treatments use Active Substances which are defined by the IMO as: "substances or organisms, including a virus or a fungus, that have a general or specific action on or against harmful aquatic organisms and pathogens". Regulation D-3 requires that ballast water management systems which make use of Active Substances shall be approved by the IMO in accordance with the "Procedure for approval of ballast water management systems that make use of Active Substances (G9)". This procedure applies a two tier evaluation criteria to determine the risk to the:
ship and crew
environment.
Chemical Treatment and Biocides:


Some systems that use chemical treatment methods produce hazardous gasses such as hydrogen which must be removed via gas separators or ventilation system.
System components are generally smaller than that of UV or Electrolytic systems, with the exception of filtration equipment.
Chemical dosing systems generate the dosing chemical from sea water. Neutralising chemicals are stored on board.
Active substances must degrade to a level that is acceptable to the discharge standards or be removed form the ballast water using a neutralising agent. The by-products of neutralisation are also subject to the discharge standards.
For effective treatment using active substances the water must be dosed at the correct rate for the correct length of time to ensure treatment is effective.

Other Factors to be Considered

When choosing a treatment system, other factors need to be considered in addition to those that comply with the BWM Convention.
Congested pump rooms or deep well ballast pumps may require equipment to be mounted on deck or in a cofferdam, this can increase pressure drops in piping and decrease pump performance.
Suitable access for sampling points must be maintained so that required testing of the ballast water can be conducted.
Not all components in many systems are suitable for use in hazardous environments such as cargo oil pump rooms where an explosive atmosphere may be present.
Will the vessel operate in US territorial waters? Remember, the USCG apply their own Type Approval requirements.
Is the vessel required to ballast in fresh water? This may limit options for equipment selection.

Indicative Analysis

Prior to compliance testing, the IMO recommend that an indicative analysis of ballast water should be undertaken to establish if a treatment system is potentially compliant or non-compliant. The results of the analysis cannot be used as a definitive measure of compliance with the BWM Convention, but can identify grounds for the investigation of potential non-compliance and immediate mitigation action.





Related info :











Related articles

Notes on Oily Water Separators / Oil Record Books

Pollution by other harmful substances & harmful packaged goods

Garbage management plan

Pollution by sewage [ Marpol annex IV ]

Pollution of air [ Marpol annex VI ]

Prohibition on use of harmful (TBT) anti-fouling paints

Prevention of pollution while carryiung out overboard maintenance

Environment friendly purchasing

Decommissioning / ship recycling

Environmental awareness

Burning Of Diesel and Heavy Fuel Oil -Impacts on environment



Safety equipments check points on board cargo ships

Garbage management plan for cargo ships







Other info pages !

Ships Charterparties Related terms & guideline
Stevedores injury How to prevent injury onboard
Environmental issues How to prevent marine pollution
Cargo & Ballast Handling Safety Guideline
Reefer cargo handling Troubleshoot and countermeasures
DG cargo handling Procedures & Guidelines
Safety in engine room Standard procedures
Questions from user and feedback Read our knowledgebase
Home page




ShipsBusiness.com is merely an informational site about various aspects of ships operation,maintenance procedure, prevention of pollution and many safety guideline. The procedures explained here are only indicative, not exhaustive in nature and one must always be guided by practices of good seamanship.


User feedback is important to update our database. For any comment or suggestions please Contact us
Site Use and Privacy - Read our privacy policy and site use information.
//Home //Terms and conditions of use

Copyright © 2015 www.shipsbusiness.com All rights reserved.