Home page|| Tanker Notes || Container Ship Operations || Ocean Navigation ||



Impact of Ballast Water at Marine eco system

According to IMO estimates, ships carry between three to five billion tons of ballast water globally each year. Ballast water is taken on board by ships for stability, but contains thousands of aquatic or marine microbes, plants and animals. Untreated ballast water released at the ship's destination can destroy the local ecosystem.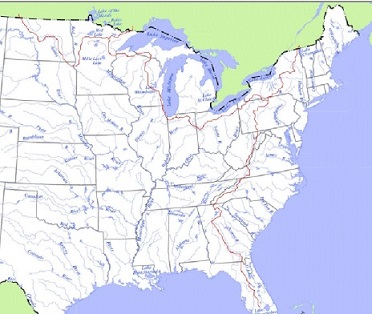 No Zebra Mussel during year 1986


We need to understand how ballast water can damage ecosystems through the introduction of harmful aquatic organisms and what can be done to prevent it. Ballast water is water that is taken on board a vessel in order to control its trim, list, draught, stability and stresses.

This water contains suspended matter, which includes microscopic life forms, coastal sediments and any associated organisms. It is estimated that at least 7,000 different species are being carried in ships' ballast tanks around the world.

Studies carried out in several countries indicated that many species of bacteria, plants, and animals can survive in the ballast water and sediment carried in ships, even after journeys of several months.

The ballast water is taken from coastal port areas as cargo is being unloaded, or to control the ship's floating condition. The ballast water contains microorganisms native to the area.

The organisms in the water and mud are carried to the next port. They are known to be able to survive for months inside ballast tanks. As cargo is loaded, or as the ship changes its floating condition in the next port, the ballast water is discharged.

The transferred species may survive to establish a population in the new environment. They can destroy local species and upset the natural balance. The spread of invasive species is now recognised as one of the greatest threats to the ecology of the planet and can have devastating effects on the local economy. The damage to the environment is often irreversible.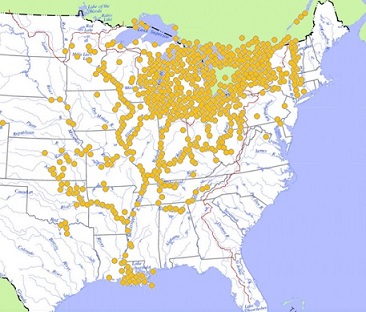 Impact of Zebra Mussel during year 2011


Case Study - Zebra Mussel

The zebra mussel, which is native to the Caspian and Black Seas, arrived in Lake St. Clair in the ballast water of a transatlantic freighter in 1987. Within 10 years it had spread to all of the five neighbouring Great Lakes. Their introduction has had a major impact on the ecosystem of the Great Lakes and led to the extinction of native species and killed thousands of birds.

Invasive species don't just impact the environment. They also impact the local and national economies. The U.S. Fish and Wildlife Service estimate that the cost to the local economy is $5 billion. One invasive species transported to one part of the word has had a major impact on the environment and the local economy.

Solving the problem

We can deal with harmful aquatic organisms in two ways:
prevent them from invading an ecosystem
eliminate them from an ecosystem.

Which of the two options do you think is the most effective?
Elimination has proven to be practically impossible and very expensive. Prevention is more effective and economical.

The International Convention for the Control and Management of Ships' Ballast Water and Sediments contains standards and procedures for the development and implementation of a Ballast Water Management (BWM) plan on board ships.

The BWM Convention aims to prevent the introduction of harmful aquatic organisms and pathogens from ships' ballast water and associated sediments while protecting ships' safety.

The transportation and discharge of ballast water can cause irreversible damage to the environment and local economies through the introduction of harmful aquatic species.
The most effective method for you to prevent the introduction of harmful aquatics species is for you and your colleagues to prepare and implement a Ballast Water Management Plan that complies with the BWM Convention.
Ballast water discharging


The Master and the Ballast Water Management Officer must prepare and implement a Ballast Water Management Plan that complies with the BWM Convention.
The Ballast Water Management Officer must maintain up to date records of all Ballast Water operations. Everybody who is involved in Ballast Water Management must know their responsibilities and receive training on how to implement the Ballast Water Management Plan.

Communication with Coastal State

To prevent your ship from being delayed entry to a Port State there must be effective communication between the Master and Coastal State when coordinating the discharge of ballast water. Contact the Coast State for its ballast water discharge and reporting requirements prior to the vessel's arrival in Port State's territorial waters. The Master and the Ballast Water Management Officer should obtain all necessary information and prepare the vessel accordingly. If the Coastal State has specific requirements for the discharge of ballast water take the following action
Follow agreed reporting procedures.
Contact ship's agent to get the latest requirements on ballast discharge in the state.
Advise the company and request any other information they might hold on ballast water discharge.
Plan for all above and ensure that safety and operational restrictions are adhered to.
If the Coastal State has no specific requirements for discharge of ballast water take the following action:
Contact ships agent and/or company to obtain latest information on the discharge requirements at port state territory.
Carry out discharge of ballast water as per approved ballast exchange sequence.
Take into consideration safety and operational procedures related to respective discharge.
Keep records and have them readily available for possible inspection.

Ballast Water Management Training

You should now know some of the key responsibilities of the Master and Ballast Water Management Officer. They must also ensure that all crew who are involved in Ballast Water operations understand the Ballast Water Management Plan and are trained on how to implement it safely. All training must be logged in the Training Log. If you are responsible for Ballast Water Management training refer to your Ballast Water Management Plan. Ship's officers and ratings engaged in ballast water exchange at sea must be aware of what is expected of them. The training must cover following :
The ship's pumping arrangements including ballast arrangements.
The locations of air and sounding pipes of all ballast tanks.
The positions of all ballast tank suctions and pipelines.
The overboard discharge arrangements and openings for release of water on deck.
Inspection and maintenance for ensuring that sounding pipes are clear and non-return devices and air pipes are in good order.
The times and circumstances required to undertake the various ballast water exchange operations.
The methods used for ballast water exchange at sea.
The related safety precautions and associated hazards.
The method of on-board ballast water record keeping, reporting and recording of routine soundings.
The location and suitable access points for sampling purposes.
The operation of Ballast Water Treatment System as per manufacturers and type approval specification, including performance monitoring , calibration of sensors, sampling etc.

Reasons for not exchanging ballast water

If a ballast water procedure is required but cannot be done for any reason, the Master must report this to the Port State Authority as soon as possible. The most common reasons for not exchanging ballast water include:
ballast water is cleaned and treated on board
ballast water is retained on board
discharge to a reception facility
a time / location-restricted route
weather / tidal conditions
ship's design and equipment
ship's safety reasons: The IMO requires that Port States should not require any action of the Master which imperils the lives of those on board or the safety of the ship.






Related info :













Related articles

Notes on Oily Water Separators / Oil Record Books

Pollution by other harmful substances & harmful packaged goods

Garbage management plan

Pollution by sewage [ Marpol annex IV ]

Pollution of air [ Marpol annex VI ]

Prohibition on use of harmful (TBT) anti-fouling paints

Prevention of pollution while carryiung out overboard maintenance

Environment friendly purchasing

Decommissioning / ship recycling

Environmental awareness

Burning Of Diesel and Heavy Fuel Oil -Impacts on environment



Safety equipments check points on board cargo ships

Garbage management plan for cargo ships







Other info pages !

Ships Charterparties Related terms & guideline
Stevedores injury How to prevent injury onboard
Environmental issues How to prevent marine pollution
Cargo & Ballast Handling Safety Guideline
Reefer cargo handling Troubleshoot and countermeasures
DG cargo handling Procedures & Guidelines
Safety in engine room Standard procedures
Questions from user and feedback Read our knowledgebase
Home page




ShipsBusiness.com is merely an informational site about various aspects of ships operation,maintenance procedure, prevention of pollution and many safety guideline. The procedures explained here are only indicative, not exhaustive in nature and one must always be guided by practices of good seamanship.


User feedback is important to update our database. For any comment or suggestions please Contact us
Site Use and Privacy - Read our privacy policy and site use information.
//Home //Terms and conditions of use

Copyright © 2015 www.shipsbusiness.com All rights reserved.