Home page|| Tanker Notes || Container Ship Operations || Ocean Navigation ||



Tanker operation : crude oil washing procedure

Crude oil washing operation onboard oil tankers involve many hazards and careful consideration will need to be made for safe planning and execution. Prior operating crude oil washing onboard utmost diligence in planning and most careful consideration will need to be made for a safe working area. Following are the basic guidance for quick reference .The Chief Officer, as qualified by the requirements as laid down by flag state administration of the ship and any port regulations that may be in force locally, shall supervise all COW operations.

What is Crude oil ? – Any liquid hydrocarbon mixture occurring naturally in the earth. Properties of crude oil vary considerably depending upon its origin. Crudes generally have a flash point below 26.7° C and a Reid vapour pressure from about 42 to 84kPa. Crude oils have contaminants such as sulphur and vanadium compounds which encourage corrosion of steel. Crude oils with high and low sulphur contents are referred to as "sour" and "sweet" crude oils respectively.

Supervision Of Crude Oil Washing (COW) Operations

If the Chief Officer is less experienced, the qualified Master shall assist in the supervision of the operations. He shall be knowledgeable about the contents of the Operations and Equipment Manual.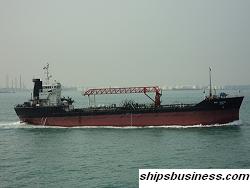 The Chief Officer shall prepare a detailed cargo oil discharge and Crude Oil Washing Plan prior to arrival discharge port. He shall carry out the operations in accordance with the plan.

Reference should also be made to the latest IMOs publication Crude Oil Washing Systems and ICS/OCIMFs publication- the ISGOTT.

The Master, Chief Officer, Chief Engineer and other officers engaged in Crude Oil Washing shall be fully familiar with the crude oil washing system provide on board the vessel.

Discharging Strategy

The discharge sequence is to be such that the vessel has a good draining trim at an early stage in the discharge. This will allow early effective stripping.

When planning for COW, the frequency and time of removing the cargo pumps from discharge operations should be planned for minimum, for efficient discharge. Under no circumstances are Crude Oil Washing operations to be commenced without operational inert gas equipment. Any Butterworth tank washing water heaters fitted must be blanked off and drained at all times. Before each Crude Oil Washing operation a full pressure test of the system must be carried out. The procedures and instructions contained in the vessels Crude Oil Washing Operations and Equipment Manual must be strictly adhered to.

Terminal (Refinery) request

Special details, port requirements and special precautions or procedures should be discussed with all personnel involved in the discharge operation. (eg. any special requirements for final discharge of crude (Fresh or Dirty) prior to completion of discharge operations, etc)


COW Manual

Crude Oil Washing and related operations shall be carried out in accordance with the Operations and Equipment manuals (COW manuals) approved by the class on behalf of flag state Government and provided on board each ship.


Advance Notice In Port

Where it is required to carry out crude oil washing during cargo discharge, the Master should inform the terminal and seek terminals permission. The same shall be discussed in detail, prior to start of cargo operations in the Pre cargo transfer safety meeting held with the terminal. COW should proceed, only after terminals permission is granted.

For crude oil washing carried out in Japanese ports, the Master shall obtain approval of the Charterer, consignee, unloading terminal, harbour master and others.


Safety Measures For Crude Oil Washing Operations

For crude oil washing, the Chief Officer shall carry out the following safety matters and shall also observe the safety regulations on crude oil washing provided by the terminal (if any). Some terminals require the vessel to complete the terminal specific safety Questionnaire / Permit / Checklists prior to granting permission for approval. In addition, he shall follow the safety precautions as laid in the relevant section of the Latest version of ISGOTT.

The following shall be not used and isolated prior to carrying COW:

Between tank cleaning lines and overboard discharge or Engine Room

a) Tank Cleaning Heaters (to be blanked)

b) Overboard Discharge Lines (to be isolated)

c) Portable Washing Machines (not to be used for COW and their hydrants blanked)

d) Cargo Sea Chests (to be blanked)


Pressure Test before Arrival Port

Conduct pressure test of COW lines prior to arrival. Any leakages, must be rectified and the system, re-tested to be proved leak free.


Confirming Atmosphere in Tanks to be Crude Oil Washed

Prior to commencement of COW operations ensure that the oxygen content of the cargo oil tanks being washed is below 8%. Refer to Cargo Oil Tank Oxygen & H2S monitoring Record for Voyage of Double Hull Operation and Oil Tank Monitoring Record.

During COW operations ensure that the cargo oil tank pressure is minimum 200 mmAq and that the IGS produces inert gas with an oxygen content of less than 5%.

Prevention of Electrostatic Generation

Do not use crude oil containing water, as washing oil.

Note
Mixtures of crude oil and water can produce electrically charged mist, during washing with an electrical potential considerably in excess of that produced by Dry crude. Refer to the relevant section in ISGOTT for precautions for Static Electricity generation and its hazards.

Before using such oil as a source of crude oil for washing, any water which has settled down during the voyage must be de De-bottomed (by discharging) to terminal by at least one meter in depth.

Where load-on-top method has been used for cargo in slop tank (previously containing oily water mixtures), the whole cargo oil in that slop tank which needs to be used as a source of oil for crude oil washing must be discharged ashore and then refilled with fresh crude from other tanks.


Communication equipment

Ensure only intrinsically portable radios are used on deck during COW operations. Deck crew shall be in prompt communication with Duty officer & chief officer.


Suspending Crude Oil Washing

Suspend COW operations immediately if:

a) The oxygen content of Inert Gas being supplied exceeds 8% by Volume.

b) Malfunction or stoppage of IG system where the internal pressure of the cargo oil tank can become negative.

c) Any indication of cargo oil leakage or malfunction in the COW system.

d) COW operation is not carried out in accordance with the COW operation plan, or if communication between the CCR and main deck is lost.

e) Discharge operations are to be suspended due to lightening in the vicinity of the vessel.

f) If the required necessary safety precautions as described and covered above cannot be followed.

g) If terminal instruct to do so


Prevention Of Air Pollution

Follow the Precautions Against Air Pollution to minimize petroleum vapor emissions


Crude Oil Washing Plan

The Chief Officer shall prepare a detailed COW plan in accordance with the Crude Oil Washing Plan in order to carry out the COW operation in the most safe and efficient manner.

Prior to arrival of the Port, or at the earliest opportunity thereafter, the Chief Officer shall conduct a Pre transfer cargo safety meeting with all personnel involved in the COW operation to ensure that all have read and fully understand the plan.


Personnel Arrangement For Operations

Carry out Crude Oil Washing by the adequate personnel arrangement as per COW plan under the reference of the Personnel Arrangement for Crude Oil Washing


Points Of Crude Oil Washing

COW operations shall always be carried out in accordance with the Crude Oil Washing Operations COW operations for High Viscosity & High Pour point (Heated) cargoes shall always be carried out in accordance with the Crude Oil Washing of Heated Cargo


Recording

The Chief Officer shall ensure that the following records are kept during COW operations:

a) Crude oil washing check list

b) Oil record book: According to the Procedures for Entry in Oil Record Book

c) Deck logbook : Date and time, and results of a COW line pressure test and operation test of related equipment.

d) Crude Oil Washing Record

e) Cargo Oil Tank Oxygen & H2S monitoring Record for Voyage of Double Hull Operation and Oil Tank Monitoring Record: It is the Measurement record of oxygen level in tanks Before entering Load port, After loading cargo, Before entering discharge port and Before crude oil washing.

f)Inert gas record : Log for 4 hourly IG pressure monitoring of cargo tanks, in addition to Continuous pressure recording by fixed recorder of IGS main line pressure after loading, until completion of discharge.

Ships Fitted with Fixed Foam Systems

In ships fitted with fixed foam systems the Chief Officer will satisfy himself that the system is fully operational prior to commencing cargo, C.O.W. or tank cleaning operations.
Foam tanks must be checked to see that they are full.
Isolating valves must be tested to see that they are free.
Foam monitors must be uncovered and made ready.
At least one portable foam applicator must be connected to a hose and foam hydrant. This is to be placed about 10 metres forward or aft but always upwind of the manifold area.
A fire hose and jet/spray nozzle must be placed alongside, connected to the fire main.




Regulations For Reference

MARPOL 73/78 Convention, ANNEX I
Laws on Prevention of Marine Pollution and Sea Disasters (Japan) OPA90, CFR (US)


Documents For Reference

IMO-Crude Oil Washing System, (Latest edition)
IMO-Inert Gas System, Latest edition
ICS / OCIMF - International Safety Guide for Oil Tankers and Terminal (ISGOTT) (Latest edition)



Related topics:

Oil pollution control method

Gas freeing arrangement for oil tanker

Handling guideline for oil cargo

Oil pollution prevention method

Preparation for loading oil cargo

How to prevent spillage of oil cargo

General precautions for oil cargo loading in tankers

General precautions for tankers

General guidances for tank cleaning

General precautions for ballasting procedure

Tanker operation in a laden voyage

Preparation for discharging oil cargo

General precautions for oil cargo discharging





Related articles


Safety practice for crude oil washing onboard oil tankers
Oil tanker operations - tank cleaning,purging & gas freeing

Safety checks prior discharging sludge from ship to reception facilities

Bulk liquid cargo handling - Ship to shore safety checklist

Ship-to-ship transfer / Operational guideline and check item for oil tankers

General precautions for tankers

Safety precautions prior transferring oil

Reporting oil spillage in foreign ports

How to use low sulphur fuel oil onboard

Operational guideline during bunkering

Fuel oil sulpher quantity frquently asked questions

What is fuel oil additive ?

Guideline for Proper heating of Fuel Oil storage tank

Dealing with low quality fuel oil

What is the procedure for fuel oil viscosity control ?

How to keep a sample of fuel oil received ?

How to keep bunkering record ?

Procedure for receiving lub oil

Precautions prior transferring fuel oil into storage tanks

Ships bunkering guideline- planning, preparation, safety checks & confirmation

Safety precautions prior transferring oil

Bunkering arrangement and safety factors onboard

Bunkering safe procedure and detail guideline for ships

What is fuel oil additive ?

Dealing with low quality fuel oil

How to keep a sample of fuel oil received ?

How to keep bunkering record ?

Acceptance / rejection of fuel in a quality dispute

Precautions prior transferring fuel oil into storage tanks

Requirement of towing arrangement in oil tankers, readyness, & training onboard

How to deal with ships power failure ? ....








Other info pages !

Ships Charterparties Related terms & guideline
Stevedores injury How to prevent injury onboard
Environmental issues How to prevent marine pollution
Cargo & Ballast Handling Safety Guideline
Reefer cargo handling Troubleshoot and countermeasures
DG cargo handling Procedures & Guidelines
Safety in engine room Standard procedures
Questions from user and feedback Read our knowledgebase
Home page




ShipsBusiness.com is merely an informational site about various aspects of ships operation,maintenance procedure, prevention of pollution and many safety guideline. The procedures explained here are only indicative, not exhaustive in nature and one must always be guided by practices of good seamanship.


User feedback is important to update our database. For any comment or suggestions please Contact us
Site Use and Privacy - Read our privacy policy and site use information.
//Home //Terms and conditions of use

Copyright © 2015 www.shipsbusiness.com All rights reserved.