Home page|| Tanker Notes || Container Ship Operations || Ocean Navigation ||



Cargo oil loading preparations for oil tankers

Prior loading oil cargo in a tanker vessel require utmost diligence in planning and most careful consideration will need to be made for a safe operation. Following are the basic procedure fo a quick guidance prior loading oil cargo.

Preparation of the Cargo Plan- The Chief Officer shall prepare a detailed cargo oil loading plan prior to arrival discharge port. The loading plan shall be posted in the CCR at a conspicuous location, and distributed to all personnel directly involved in the discharge operation.

The loading plan should be signed to confirm that personnel have read and fully understood the plan. The Chief Officer shall also prepare a watch schedule and Person in-Charge list for oil transfer operations for the discharge operation.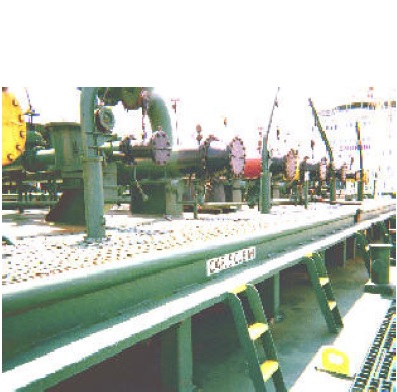 Fig: cargo loading manifold for oil tanker



Prior to commencement of loading operation the Chief Officer shall conduct a "Pre transfer cargo safety meeting" with all the concerned crew and shall have a duty officer read aloud such loading plan to all the attending officers and crew.

Special details, port requirements and special precautions or procedures should be discussed with all personnel involved in the loading operation.

Preparing of Ballast Pumps

The Ballast Pumps shall be in all readiness prior to arrival at loading port.

Cargo Oil Transfer Check Lists.

The Chief officer shall complete the following check lists prior to, during and upon completion of cargo oil transfer operations.

The Chief Officer, after confirmation, shall affix his signature on the related checklist. The Master, shall then sign on the completed checklist.

Display of warning notices and signs

Hose Connection

The chief Officer or deck duty officer must be in attendance during connection of cargo oil transfer arms / hoses.

Cargo Oil Transfer Meetings with Terminal representative

The Master, Chief Engineer and Chief Officer must attend and carry out a "pre-transfer cargo safety meeting" with the shore facility representative to ensure full agreement with the cargo oil discharge plan, and to agree on method of communication during emergencies.

The "Ship/Shore Safety Check List" or relevant "Ship to Ship Transfer Check List" must be completed and signed for in agreement by both parties after successful completion of safety checks and confirmation and prior to starting of operations.

Dry Survey / OBQ survey

• The cargo tanks readiness is to be confirmed by the attending Surveyor / Loading master. He shall be escorted by a responsible officer. Upon completion survey, obtain the surveyors certificate / acknowledgement on ship's document.

• The vessel is to prepare dry certificate (OBQ Certificate, as required), upon completion of inspection and the same shall be acknowledged from the attending official. If available, copy of the surveyor's document to be retained onboard.

•Closed method of dipping such cargo tanks shall be followed.

Cargo documents and Information required for Surveyors at Loading ports
> Dry certificate at discharging port(s)
> Vessel Experience Factor
> Cargo Tank History
> Slop certificate, if applicable
> Arrival & Departure / Tank condition of Water Ballast Tanks and Fuel Oil Tanks
> Cargo Oil Tank Ullage Table
> In-tank bottom line Capacity Information
> The Vessel Particular
> Pre-loading plan



Lining up Pipelines and Valves

Prepare the lines of the designated tanks to be loaded.

> Suction valves for tanks are not to be used suitably marked and protected from accidental miss-operation.

> Carry out the filling of the separator with utmost caution, taking care to avoid "Liquid Hammer".

> Ensure that the IG pressure of the tanks are always maintained positive during the loading operation.

> Re-confirm the all Vapor Equal Live and Manifold Drain valves 0are closed, prior to start loading.

> Prior to commencing loading, the cargo tank line valves to be set as per the plan for start of loading.

Use the ship specific 'Valve Checklist" prudently.

> Valves not in use should be secured and lashed shut. Check that all ballast tank lids are closed. They are to remain closed throughout the loading operation.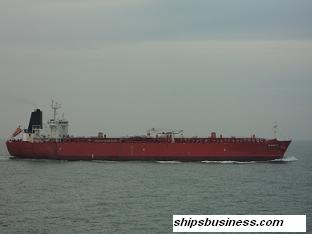 Fig: Oil tanker QUDS underway



> Line / Valve settings are to be supervised and checked by the Watch-Officer and re-confirmed by the Chief Mate.

> The manifold drain valves must be shut and the Duty Deck Officer should confirm them shut.

> Unless an operation is in progress all manifolds shall be shut and all lines not connected to the shore line, including the offshore side, must have the manifold blanks secured by all the nuts and bolts; said nuts and bolts must be tight.

> The Duty Deck Officer stationed at the manifold when starting loading must confirm to the Chief Officer in the CCR that the correct manifold(s) are open and that the other manifold(s) including the offside manifolds are closed and blanked. Pressure gauges are fixed and covers removed.

> The order for opening of manifold valve shall be under the chief officer's permission.

Precautions for Loading Heated Cargo

Unless the ship is specially designed for carrying heated cargoes, cargo heated to a high temperature can damage a tanker's structure, protective coatings and equipment such as valves, pumps and gaskets.

• If heated cargoes have not been loaded since the previous 3 months prior, then prior to loading heated cargoes, a "Steam Trial Test" shall be carried out.

• The steam traps shall be maintained in accordance with the maintenance schedule.

• Vessel should check that the proposed loading temperature does not exceed the maximum loading temperature for cargo valves and / or tank coating limitations.

• Cargo plans should take into account changes in ullage space due to cargo temperature fluctuations, with special regard to expansion of cargoes.

• On loading heating cargo, special precautions shall be taken to efficiently drain all lines into the tanks, after operation.

• Also due regard to be considered where certain cargo is present

(ie if heated cargo is present in entire bottom line and non heated cargo is stowed adjacent, it may so happen that the section of bottom line passing through the non-heated cargo tank section may solidify in the line.)

In certain cases, it may be required to strip the lines to avoid such problems.

• Should there be any request to heat cargo beyond that of the valve safe maximum temperature then the company must be advised

Personnel arrangement at beginning of operations

In principle, for the start up of operations, all deck crew shall be in attendance and distributed as per chief officer's instruction.



Onboard Announcement

Have the crew know the beginning of operations to call their attention to smoking, use of fire, designated passage and other matters.



Related articles:

Handling guideline for oil cargo

Oil pollution prevention method

How to prevent spillage of oil cargo

General precautions for oil cargo loading in tankers


Related articles:

Basic procedure for pumproom management

Ship to ship transferring oil Basic procedure and guideline

Oil pollution control Oil tanker safety guideline

Oil pollution countermeasures Oil tanker safety guideline

Oil cargo loading Preparation and guideline

Oil spillage prevention Oil tanker safety guideline

Disaster prevention in oil tanker Procedure and guideline

Acceptance / rejection of fuel in a quality dispute

Operational guideline during bunkering

Bunker fuel sulfer limit of 3.50 % - Fuel Oil Regulations Frequently asked questions

Ships bunkering guideline- planning, preparation, safety checks & confirmation

Bunkering arrangement and safety factors onboard

Bunkering safe procedure and detail guideline for ships

How to keep bunkering record ?

Precautions prior transferring fuel oil into storage tanks

Treatment of waste oil and oily bilge

Bulk liquid cargo handling - Ship to shore safety checklist

Procedure for oil tankers and how to maintain records

Acceptance or rejection of fuel oil

Heating of fuel oil storage tank

Fuel oil viscosity control

Ships bunkering guideline- planning, preparation, safety checks & confirmation

Tanker vessel safety guideline - inert gas system

Tanker vessel safety guideline - gas freeing procedure

Precautions prior entering freezing zone - Check items in oil tankers operation

Tanker vessel safety guideline Check items in oil tankers operation

Tanker vessel safety guideline - how to prevent oil spillage

Tanker vessel safety guideline - tank cleaning procedures

How to ensure safe working atmosphere onboard?





Related Information

General guidance for oil tankers

Tanker equipment and machinery

Pumproom procedure

Pumproom inspection for tankers

Treatment for waste oil or oily bilges

Oil pollution prevention method

General precautions for tankers

Tanker equipment and machinery

General guidance for oil tankers

Crude oil washing for tankers






Other info pages !

Ships Charterparties Related terms & guideline
Stevedores injury How to prevent injury onboard
Environmental issues How to prevent marine pollution
Cargo & Ballast Handling Safety Guideline
Reefer cargo handling Troubleshoot and countermeasures
DG cargo handling Procedures & Guidelines
Safety in engine room Standard procedures
Questions from user and feedback Read our knowledgebase
Home page




ShipsBusiness.com is merely an informational site about various aspects of ships operation,maintenance procedure, prevention of pollution and many safety guideline. The procedures explained here are only indicative, not exhaustive in nature and one must always be guided by practices of good seamanship.


User feedback is important to update our database. For any comment or suggestions please Contact us
Site Use and Privacy - Read our privacy policy and site use information.
//Home //Terms and conditions of use

Copyright © 2015 www.shipsbusiness.com All rights reserved.