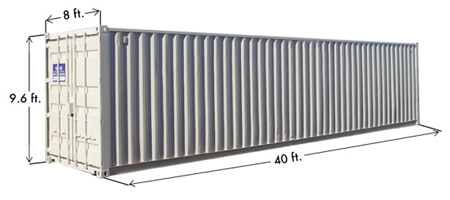 Fig :High Cube Container
Their width is always 8 feet although their height can vary. The term High cube container usually refers to a standard-sized container that has a height of 9 feet 6 inches. Container heights can be 8 feet, 8 feet 6 inches, 9 feet 6 inches or 10 feet 6 inches.
Containers are referred to by the acronym TEUs – 20 foot equivalent units, or 40 foot equivalent units (FEUs).
The ISO standard for containers defines dimensions, both internal and external, and load ratings. All containers have a framework and corner posts fitted with corner castings.
The castings at each corner of the container support the containers weight. The castings are the only points at which a container should be supported, and are used to attach securing fittings, such as lashing rods and twistlocks. The position and spacing of corner castings are carefully controlled.
Containers that are longer than 40 feet usually have additional support points at the 40-foot position so that they can be stowed over a standard 40-foot container.
Standard sizes for ISO Series 1 freight containers include those shown in the table below. 20-foot containers are actually a little shorter than 20 feet, so that two 20-foot containers can be stowed in a 40-foot bay. The actual dimensions are 12192 mm for a 40-foot container and 6058 mm for a 20-foot container. Thus, two 20-foot containers are 76mm shorter than a 40-foot container.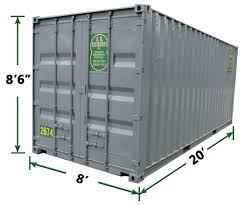 20' container