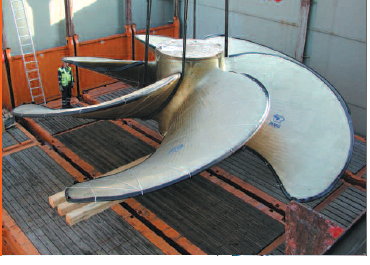 Fig :Stowing heavy weight propeller
OOG stowage :
Out of gauge containers are usually stowed underdeck and in case of an On Deck Stow, careful consideration will be required. Local planner or agent may be requested for such approval prior loading. Hatch cover clearance and Cell guide clearance must be verified to confirm that there will be no damage to the vessel or cargo when loaded. Appropriate number of slots must be kept vacant to accommodate the OOG cargo as necessary.
Stevedore Damage
It is essential that, during all cargo operations, a careful watch is kept for any damage caused to the vessel, her equipment or to containers. Notice of any damage must be immediately brought to the attention of the Stevedore's representative, the Port Captain/Supercargo and Charterers Agent. Damage reports must be completed in all cases giving the full and comprehensive details of damage caused.
The Stevedores representative is to sign all damage reports and be given a copy. Refusal by the Stevedores to sign must be stated on the report and they are to be given a copy. These damage reports must be copied to Stevedoring Company, Charterers Agent, Charterers and Managers.
The Charterers must be informed by email of any such Stevedore damage, or in accordance with their specific instructions. Where damages are rectified by the vessel's crew and resources, full details such as time and materials must be given to the management office so that Charterers can be invoiced in accordance with the charterparty.
Cargo Damage on Passage
In the case of suspected or actual damage to cargo whilst on passage, remedial action must be taken immediately and noted in the deck log book. The Charterers and the Managers must be advised of the damage and the Master is to note protest on arrival at the next port.
Cargo Damage Observed in Port
Whenever containers/cargo are found to be damaged in the port, the Master must immediately inform the Port Captain, Charterers Agent, the Charterers and the Managers and note protest.
Damaged Containers Presented for Shipment
An efficient deck watch must be maintained, and any damaged containers presented for shipment brought to the Port Captain and Charterers Agent's attention. Damaged containers must only be accepted for loading only when authorised by the charterers and a letter of indemnity (LoI) has been given to the Master.
Broken Custom Seals
In the event of broken seals being discovered on containers
On being presented for shipment the Port Captain and Charterers Agent must be informed immediately;
At sea, the container must be checked for tampering and then resealed with the details noted in the official log book;
In the stow port, the Port Captain and the Charterers agent must be informed.
In all cases of broken seals being discovered, the Master must inform the Charterers and the Company giving full details including new seal numbers, if fitted.
More info on
handling Out of gauge containers/break bulk cargo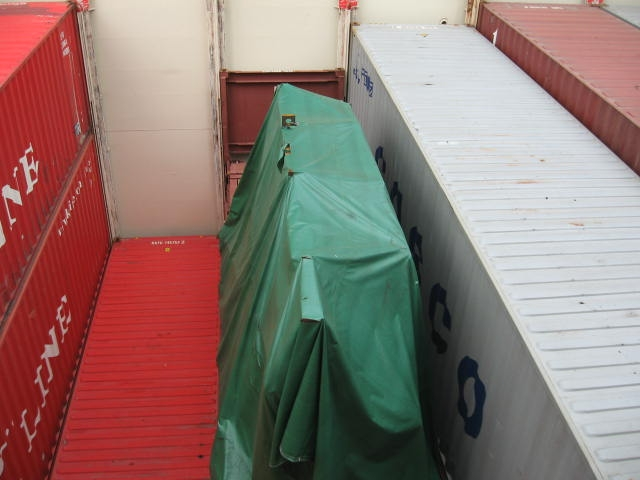 Related info :
• Stacking Weights
• Lashing strength
• Dangerous goods stowage and segregation
• Reefer Container Stowage
• Special Container Stowage
• 20' or 40' or 45' Compulsory Stowage Locations
• Irregular Stowage of Containers
• Over-stow of Containers


• Hatch Cover Clearance (High cube containers Under Deck )


• Other matters regarding cargo stowage as necessary
Summarized below are some basic container transport procedures. These procedures are only indicative, not exhaustive in nature and one must always be guided by practices of good seamanship.
Safe cargo stowage and planning
When considering acceptability of a container cargo stowage plan, some basic check items, procedures / guidelines concerning cargo stowage shall be taken into account .
Read more...
Safe Cargo operation
On Arrival Port, Prior Commencing Cargo Operation 1) The composition of cargo watch personnel shall be decided and duties well understood. 2) All personnel involved in the cargo watch shall be briefed regarding the expected operations and provided with a Cargo Discharge Plan .
Read more...
Guidelines and procedures concerning containership hull strength & stability
When considering acceptability of a container cargo stowage plan, the following procedures/guidelines concerning hull strength & stability shall be taken into account:
a) Draft, Trim and Heel Draft restrictions at berth, approaches, passage and next port shall be taken into consideration and vessels maximum draft must be maintained within the applicable restriction.
Read more...
Procedures for dangerous cargo handling and documentation
Handling dangerous cargo requires special care due to the inherent hazardous nature of the cargo and applicable carriage regulations.
Read more...
Procedures for reefer cargo handling
Reefer containers require special care after they are loaded on board ship. These containers need to be supplied with power, monitored closely for proper function and repaired as required in case of malfunction.
Read more...
Handling breakbulk,Out of gauge and open top containers
Break bulk cargo is usually stowed on flat racks and platforms. It is important to confirm that the break bulk cargo itself is properly secured onto the Flat rack or Platform prior loading on board.
Read more...
Containership operation: 2 in 1 (Two in One) Loading
The term 2 in 1 operation is normally used when two 20feet units are loaded in one 40feet bay underdeck. When such loading operation is being conducted, it must be ensured that the terminal staff is aware of the vessels lashing system.
Read more...
Containership operation: On Deck Loading of 20feet Containers
20feet containers loaded on deck must be spaced apart in order to leave room for lashing each container on the fore and aft ends.
Read more...
Containership operation: Opening closing hatch covers
Hatch cover operations are frequently carried out on board container ships but due care is necessary to prevent damage by incorrect operation.
Read more...
Containership operation: Cargo lashing
Regular inspection and maintenance of ships cargo securing devices must be carried out. These would include routine visual examination of components being utilized, lubrication of securing devices, repair of damaged securing devices and separating out and rejecting damaged/unusable securing devices.
Read more...
Containership Cargo securing
When containers are carried on deck, the ship is required to be approved for that purpose and the containers themselves are secured with twistlocks and lashings. These usually consist of steel rods and turnbuckles.
Read more...
Containership Cargo Securing Devices (Lashing Gear Box Containers)
Vessel shall account for all lashing gear box containers including bins prior departure from every port.
Read more...
Containership Cargo hold ventilation
Cargo holds of container ships are fitted with two basic types of ventilation systems, namely natural and mechanical. Mechanical ventilation could be of either the supply or the exhaust type.
Read more...
Safety navigation for container ships
While planning the passage for intended voyage the safety of navigation should be accommodated in, where it is both reasonable and possible to do so,
Read more...
Containership Cargo care at sea
Condition of Cargo (Container) Securing / Lashing shall be checked at least once daily and tightened as required.
Read more...
Containership operation: Safety of personnel
On board containerships there are several potential safety hazards in the cargo working area and these will have to be identified, made safe and monitored to ensure continued safety.
Read more...
Containership operation: wet damage in cargo hold
Water entered into vessel cargo holds may cause wet damage to the cargo inside containers especially stowed on the bottom, unless the bilge water is drained in a proper and swift manner.
Read more...
Containership operation: hull damage stevedores
In case a third party including stevedores is responsible for an accident caused by work, such as Cargo handling, Bunkering, or Loading ships stores or the like, the Master shall handle the accident with appropriate steps to claim for damages.
Read more...
Measures to protect the vessel side against stevedores injury
All working areas and accesses must be checked to be clear of any slippery matter and obstructions, be structurally sound and well lit, before stevedores come on board.
Read more...
Measures to protect reefer cargo deterioration
Check and monitor each reefer container as per voyage instruction, which requires some basic check items.
Read more...
Containership Navigation : Ships motion in a seaway
Ships are affected by movement in six degrees of freedom; rolling, pitching, heaving, swaying, surging and yawing. Of these, rolling, pitching and heaving generate the highest forces during heavy weather.
Read more...
Containership Cargo Securing Arrangement
Details of the securing system and its constraints are set out in the vessels approved Cargo/Container Securing Manual.
Read more...
Containership Cargo Operation : Common reasons for stowfall
Container stows often fail due to:
Container stacks being too heavy and too high overall, exposing the lower containers to excessive transverse racking and compressive forces due to the tipping effect.
Read more...
Containership operation : Ships motion in a seaway :parametric roll
The term parametric roll is used to describe the phenomenon of large unstable roll motion suddenly occurring in head or stern seas.
Read more...

Other info pages !
Ships Charterparties
Related terms & guideline
Stevedores injury
How to prevent injury onboard
Environmental issues
How to prevent marine pollution
Cargo & Ballast Handling
Safety Guideline
Reefer cargo handling
Troubleshoot and countermeasures
DG cargo handling
Procedures & Guidelines
Safety in engine room
Standard procedures
Questions from user and feedback
Read our knowledgebase
Home page

ShipsBusiness.com is merely an informational site about various aspects of ships operation,maintenance procedure, prevention of pollution and many safety guideline. The procedures explained here are only indicative, not exhaustive in nature and one must always be guided by practices of good seamanship.


User feedback is important to update our database. For any comment or suggestions please Contact us
Site Use and Privacy - Read our privacy policy and site use information.
//Home //Terms and conditions of use

Copyright © 2015 www.shipsbusiness.com All rights reserved.