Home page|| Tanker Notes || Container Ship Operations || Ocean Navigation ||





General guidance for Containership cargo stowage and planning - Special Container Stowage



When stowing high cube containers on deck, visibility from bridge must be considered in case several high cube containers are in the same stack.

When stowing these Under Deck, Hatch cover clearance must be considered.

Depending on the vessels construction, a slot may need to be kept vacant if more that 1 high cube container is loaded Under Deck.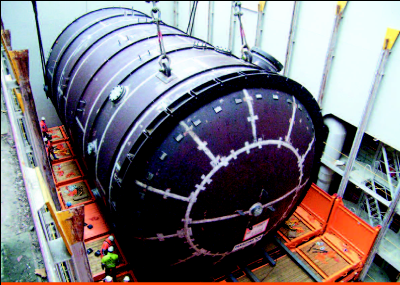 Fig :Heavy lift cargo
The stowage of 45 foot containers is restricted by lashing requirements, lashing bridges, Reefer monitoring platforms or other obstructions.
Allowable positions for loading 45' containers must be carefully checked prior loading.
Many containerships are designed to carry Locomotives, large yachts, planes, entire factory plants, boilers, wind generators, giant turbines and ship propellers or art statues more than ten metres high. Even items weigh- ing more than 350 tons or being over 30 metres long can be safely carried on . 
Such heavyweights have to be specially han- dled during loading/discharging and firmly secured for transport by sea. Technical know- how, a long experience, good communications network with ports, port operations, stowage planners and  crew on board  and modern equipment are essential for a safe journey.
Other factors should be taken into account before accepting a containership cargo stowage plan :
• Stacking Weights
• Lashing strength
• Dangerous goods stowage and segregation
• Reefer Container Stowage
• Out of Gauge Container Stowage
• 20' or 40' or 45' Compulsory Stowage Locations
• Irregular Stowage of Containers
• Over-stow of Containers


• Hatch Cover Clearance (High cube containers Under Deck )


• Other matters regarding cargo stowage as necessary


Other Info Pages
Home Our home page
Container Ship Operation Basic guidance
Cargo stowage and planning How to plan effctively
Cargo care at sea Precautions to be taken
Reefer cargo handling Troubleshoot and countermeasures
DG cargo handling Procedures & Guidelines
Cargo securing Check items prior departure port
Safe navigation Various factors affecting ships navigation at sea
Hull strength & stability Prior loading how to ensure hull strength & stability of ship
stevedores injury How to prevent injury onboard
Site Map Page listing for this site.
Site Use and Privacy - Read our privacy policy and site use information.
Contact us

Copyright © 2009 Ships business.com All rights reserved.

NOTE:
Our additional pages contain somewhat larger resources regarding procedures / guidelines about container stowage and safe handling in port,care at sea, Stacking weights,cargo securing prior departure port, Lashing Strength, Dangerous Cargo Stowage & Segregation,handling Reefer units, Special Container Stowage, Irregular Stowage of Containers, Over-stow of Containers,safety of navigation,Hull strength & stability,stevedores injury and reporting, Hatch Cover Clearance (High cube containers Under Deck ) and many more detail topics related with containership operation and business.