Home page|| Tanker Notes || Container Ship Operations || Ocean Navigation ||



Procedure for 20',40' or 45' container stowage

The development of containerisation was a giant step forward in carrying general cargo by sea. At the time, it was correctly predicted that unit costs would fall and cargo damage become a thing of the past. In the early days of containerised transport, ships carried containers stowed on hatch covers, three or four high. A variety of lashing systems were in use. However, the most reliable system consisted of stacking cones, twistlocks, lashing rods and turnbuckles (bottle screws). These systems were effective in lashing containers carried on deck to the third tier.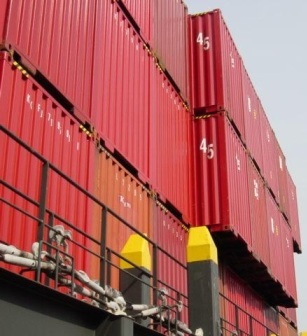 45 feet container stowage


Today, ships are bigger and a post-Panamax container ship will carry containers on deck stacked up to nine tiers high. However, while the ships are able to carry containers stacked higher, the lashing systems are still only capable of lashing to the bottom of the third tier containers or the bottom of the fourth or fifth tier containers when a lashing bridge is fitted. Ship design has developed but methods to secure containers have not.

A classification society will approve a ship for the carriage of containers. Regulations stipulate that the ship must carry a Cargo Securing Manual. This will contain instructions as to how cargo should be secured. However, approval of the arrangements in the manual will not necessarily mean that cargo securing arrangements will withstand foul weather.


Do not lash to the overhanging end of
a 45 feet container


20 feet ,40 feet or 45 feet Compulsory Stowage Locations for Container ships cargo planning : These stow positions are usually incorporated in the stowage planning software itself and errors will be indicated in case of violation. Do not override the stowage planning software manually to accommodate any inappropriate stow suggested by the terminal. When stowing these Under Deck, Hatch cover clearance must be considered. Depending on the vessels construction, a slot may need to be kept vacant if it is necessary.

45ft CONTAINER :
Each space between the bays has enough clearance which can load 45ft container at fore and aft of the cross deck, and when it is 3 or more high container, 45ft container can be loaded into every bay location. In other vessels, the loading of 45ft container may not be able to be performed because of the clearance, cautions are required in stowage.
The stowage of 45 foot containers is restricted by lashing requirements, lashing bridges, Reefer monitoring platforms or other obstructions. Allowable positions for loading 45 feet containers must be carefully checked prior loading.


There are certain actions that should always be taken to prevent containers from being damaged or lost overboard. The following steps are considered best practice. Points to remember:
check stack weights before stowage. It is important not to exceed allowable stack weights; otherwise failure of the corner posts of the containers stowed at the bottom of the stack is possible. If the stow is too heavy, the lashings may have insufficient strength to hold the containers in place if bad weather is encountered
never deviate from the approved lashing arrangements shown in the Cargo Securing Manual, except to add additional lashings. Calculate forces using the approved loading computer
discuss the proposed loading with stevedores to ensure that the proposed loading does not compromise the ship's lashing system, loading requirements or stability
consult the Cargo Securing Manual before applying lashings
if stack weights are high and bad weather is expected, then fit additional lashings
try to avoid isolated stacks of containers in holds or on deck. Where possible, load containers so they are evenly distributed
avoid loading heavy containers above light containers and at the top of a stack, unless the stowage arrangement is shown in the Cargo Securing Manual and the stowage is found satisfactory when checked using the approved loading computer
avoid carrying open frame containers in cargo holds unless specifically permitted in the Cargo Securing Manual
keep your system of lashing simple, using the highest rated components
to assist the shore lashing gang, give them precise instructions as to how containers should be secured
examine containers for physical defects – check the corner posts carefully. The corner posts have to resist high compression forces as a result of static weights from containers stowed on top and from dynamic forces that occur when the ship rolls, heaves and pitches. Containers with damaged corner posts placed in the bottom of a stow are likely to collapse. Reject damaged containers
check that all cell guides are clear of obstacles, are straight and are not buckled
check that turnbuckles are fully tightened. Loose lashings will be ineffective
avoid using left-hand and right-hand twistlocks on the same ship
regularly examine lashing components, including ship fittings, for wear and defects. Replace worn or damaged lashing components. Repair worn or damaged ship fittings. Check all equipment, not just equipment in regular use. Keep turnbuckles and twistlocks clean and well greased
consider additional lashings if bad weather is expected
it is difficult to know when lashing components should be replaced. Few organisations are confident to issue 'criteria for replacement', which means that the ship's owner or individual master will need to exercise judgement. If in doubt, replace the equipment. Give special attention to dovetail or sliding socket foundations
remember that during ship rolling, forces on container corner posts can be up to three times greater than the upright compression force. Weather route in an attempt to avoid the worst of the meteorological systems or areas where high seas in winter are common. Check the specified limits of metacentric height (GM) in the Cargo Securing Manual and make sure this is not exceeded. If navigating in bad weather, reduce speed, avoid beam seas and proceed with caution until the storm has passed
try to avoid loading 'high cube' containers on deck in the first or second tier. Lashing rods are more difficult to fit and special rods with extension pieces are often needed. Before loading identify where these containers are to be stowed. It may be necessary to reposition them
always consider personal safety when accessing lashing positions and working with lashing equipment. This applies equally in port and at sea





Related topics

2 in 1 container operation in cargo hold

How to load 45 feet containers

Container damage in ''2 in 1'' cargo Operation




Other factors should be taken into account before accepting a containership cargo stowage plan :


Stacking Weights

Lashing strength

Dangerous goods stowage and segregation

Reefer Container Stowage

Out of Gauge Container Stowage

Special Container Stowage

Irregular Stowage of Containers

Over-stow of Containers

Hatch Cover Clearance (High cube containers Under Deck )

Other matters regarding cargo stowage as necessary



Container handling more info pages:





Read more......






























Other info pages !

Ships Charterparties Related terms & guideline
Environmental issues How to prevent marine pollution
Cargo & Ballast Handling Safety Guideline
Safety in engine room Standard procedures
Stevedores injury How to prevent injury onboard
Home page





ShipsBusiness.com is merely an informational site about various aspects of ships operation,maintenance procedure, prevention of pollution and many safety guideline. The procedures explained here are only indicative, not exhaustive in nature and one must always be guided by practices of good seamanship.


User feedback is important to update our database. For any comment or suggestions please Contact us
Site Use and Privacy - Read our privacy policy and site use information.
Terms and conditions of use

Copyright © 2015 www.shipsbusiness.com All rights reserved.