Home page|| Tanker Notes || Container Ship Operations || Ocean Navigation ||





Container ship operation: Common reasons for stow collapse



Container stows often fail due to: Container stacks being too heavy and too high overall, exposing the lower containers to excessive transverse racking and compressive forces due to the tipping effect. Such an anomaly may occur if the ship is unable to calculate the forces acting on stow with precision. The Cargo/Container Securing Manual is limited in this respect as the examples of container weight distributions shown may not cover all permutations and eventualities. Software programs have the advantage of taking into account all known variables.

The wind force acting on the outboard stacks not being taken into account.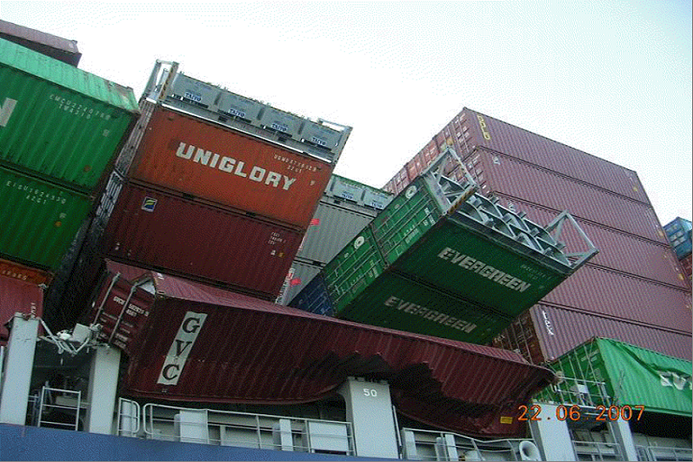 Fig: improper lashing caused container stowfall



Loose lashings allowing the stacks to tilt and arrest sharply as the slack is taken up. This causes the securing system to experience a sudden shock load which may exceed safe working limits by a considerable margin.

• Two 20 foot containers placed in a 40 foot slot, leaving insufficient space for lashing rods to be fitted to the inward facing ends. This arrangement should be avoided unless the containers are either lightly loaded or empty and the stack height is low, or if the Cargo / Container Securing Manual allows.

• Rogue twist locks (e.g. right-hand locking mechanism) finding their way aboard a vessel equipped entirely with twistlocks of a different type (e.g. left-hand locking mechanism).

• If manual twist locks are used, screening checks should be carried out whenever possible in order to ensure that rogue devices are not present.

• High cube boxes stowed cumulatively, resulting in the highest container extending well above the top of the cell guides.

• Wherever possible, the vessel should scrutinize pre-plan details for the presence of non-standard containers. If the pre-plan shows that out of gauge boxes are to be loaded in unacceptable positions, more suitable stowage options should be discussed and agreed with the terminal as soon as possible.

• Securing equipment not applied correctly, not tightened or not applied at all, contrary to the provisions of the Cargo/Container Securing manual.

• Stevedores should be given detailed instructions regarding the positioning of the lashings and equipment to be used and, as far as practicable all arrangements should be checked thoroughly by the crew before sailing.

• Portable and/or fixed securing equipment in damaged or worn condition.

• Extreme weather conditions.

• The movement of inadequately secured heavy cargo within a container during adverse weather, resulting in damage to the container walls and/or framework and leading to the eventual collapse of the stack.



Related topics

Ships lashing requirements

Important Cargo securing

Ships emergency securing item

Basic guideline for Container Ship Operation


Our additional pages contain somewhat larger lists of resources where you can find useful informations



NOTE:
Our articles are based on various shipboard activities,safe operation,maintenance and onboard procedure. User feedback is important to update our database.For any comments or suggestions please contact us ''Support[at]shipsbusiness.com''




Other Info Pages
Home Our home page
Container Ship Operation Basic guidance
Cargo stowage and planning How to plan effctively
Cargo care at sea Precautions to be taken
Safe Cargo operation Various guidelines
DG cargo handling Procedures & Guidelines
Cargo securing Check items prior departure port
Safe navigation Various factors affecting ships navigation at sea
Hull strength & stability Prior loading how to ensure hull strength & stability of ship
stevedores injury How to prevent injury onboard
Site Map Page listing for this site.
Site Use and Privacy - Read our privacy policy and site use information.
Contact us

Copyright © 2009 Ships business.com All rights reserved.