A unit without a fixed roof but with portable roof supports and a tilt or cover for protection from the weather. Typically used for very heavy cargo, cargo that can only be loaded with an overhead crane or for over-height pieces. Sometimes used as an alternative to a dry container, although care must be taken to ensure that the cover is properly secured and weathertight. Removable tarpaulin for top loading of over height cargo
The walls of open-top containers are generally made of corrugated steel. The floor is made of wood. It has the following typical distinguishing structural features. The roof consists of removable bows and a removable tarpaulin. The door header may be swivelled out.
These two structural features greatly simplify the process of packing and unpacking the container. In particular, it is very easy to pack and unpack the container from above or through the doors by crane or crab when the roof is open and the door header is swivelled out.
It should be noted, however, that the purpose of the roof bows of an open-top container is not solely to support the tarpaulin but also to contribute to container stability. Flatracks are therefore more suitable for overheight cargoes.
Lashing rings, to which the cargo may be secured, are installed in the upper and lower side rails and the corner posts. The lashing rings may take loads of up to 1,000 kg. Usual open-top container dimensions are 20' and 40'.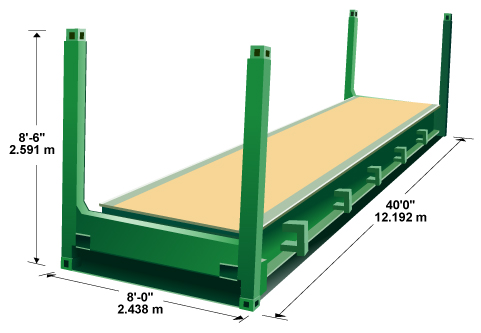 Fig :Flat Rack Container
Flat Rack Container
20' and 40'
A flatrack is a container without side walls but with collapsible end walls or corner posts. Commonly used for large and/or heavy pieces of cargo which can be loaded "in gauge" (i.e. within the dimensions of the unit) and can thus be handled as a standard unit and incorporated within container stacks ashore and in cellular holds. A flatrack may also be loaded with "out-of-gauge" cargo, i.e. over-width and/or over-height pieces which require special consideration when planning stowage.
The flatrack is designed for heavy cargoes producing concentrated floor loadings and is usually fitted with heavy-duty lashing points and slots for side stanchions.
The collapsible end walls or corner posts allow a number of flatracks to be locked together for empty handling as a single unit.
Extensively used for over width and heavy cargo .The container frame can be folded flat for ease of transportation when empty.
The structure must have equivalent strength to a dry van box.
P&I cover may not extend to cargoes carried on deck in a flat-rack container.
It is often difficult to secure loads with large dimensions and gross weights. If, for instance we take a large box or crate containing heavy goods, the package has large, smooth exterior walls which are hardly suitable for attaching load-securing materials. This fact leads to certain demands on the manufacturers of packaging containers to provide additional constructional features that facilitate adequate load securing. It must be noted that not all the components of a package, in particular of a package for heavy goods, is capable of absorbing and maintaining high securing forces.
Half-height
Also fitted with a tilt cover, the half-height container is intended for the carriage of high density cargoes such as metal ingots and is of heavy construction.

Fig :Platform Container
Platform Container
20' and 40'
A platform is the floor of a container with container fittings at each corner but without corner posts. A platform can only be lifted with a spreader by fitting custom-made wires or chains between the spreader twistlocks and the platform twistlock pockets. Another unit cannot be stowed above a platform, thus they are only suitable for top stowage.
Platforms and flatracks may also be used grouped together in a cellular vessel to form a `tween deck for the underdeck stowage of items too large to be conveyed on a single unit. Commonly used for extra length and heavy lift cargo.
Platforms consist solely of a floor structure with extremely high loading capacity; they have no side or end walls. This high loading capacity makes it possible to concentrate heavy weights on small areas. A platform consists of a steel frame and a wooden floor structure.
Platforms are available in 20' and 40' sizes. 40' platforms have a gooseneck tunnel at each end.
Lashing rings, to which the cargo may be secured, are installed in the side rails. The lashing rings may take loads of up to 3.000 kg.
Coil carrier
A derivation of the flatrack with special fittings designed for the carriage of steel coils without the necessity for heavy tomming.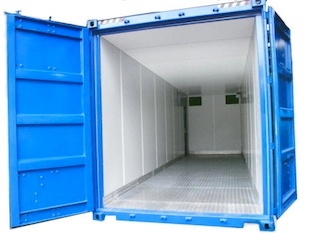 Fig :Insulated Container
Insulated Container
20' and 40'
For additional insulation of sensitive cargo
This type of container is often referred to not as a refrigerated container but as an insulated container, as it has no integral refrigeration unit. The lack of a refrigeration unit allows such containers to have a larger internal volume and payload than integral units. On board, the inside of the container is supplied with cold air via the ship's central cooling plant. The air flows through the container in the same way as in integral units. Cold air is blown in at the bottom and the "warm" air is removed at the top.
Open-sided
The open-sided container is ideal for cargoes that need to be loaded from the side, e.g. long lengths, and for cargoes that need ventilation, e.g. fresh vegetables or livestock. Cargo side restraint may be provided by bars or a metal grill with a canvas tilt cover providing weather protection.
Side-door
This type of container provides side access and the security of an enclosed container. It is ideal for stuffing or stripping while mounted on a rail wagon.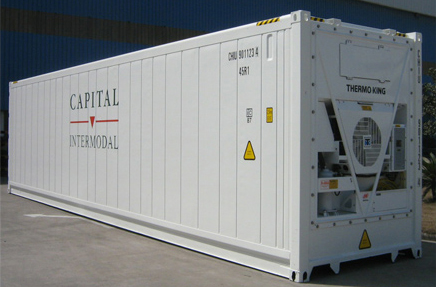 Fig :Reefer Container
Reefer Container
20' and 40'
The majority of refrigerated containers in use are those with an integral refrigeration unit that plugs into the ship's electrical power supply. When in a terminal the container is plugged into the shore power supply. Refrigerated containers are used for the carriage of foodstuffs ranging from chilled fruit and chocolate to deep frozen meat and fish. Additionally, they are used to carry certain pharmaceutic als and hazardous cargoes that require temperature control.
Integral Unit (Integral Reefer Container, Integrated Unit): For cooling, freezing or heating of foods or chemicals .General construction as for dry van boxes.
They usually have their own refrigeration unit, with an air or a water-cooled heat exchanger.
A small number of CONAIR boxes use close-coupled ventilation.
They have their own data logger to record temperature.
This type of refrigerated container has an integral refrigeration unit for controlling the temperature inside the container. The refrigeration unit is arranged in such a way that the external dimensions of the container meet ISO standards and thus fit into the container ship cell guides, for example. The presence of an integral refrigeration unit entails a loss of internal volume and payload.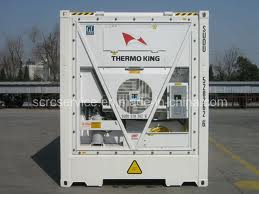 Fig :High cube Reefer Container
High Cube Reefer Container
40' and 45'
9'6" High
For over height and voluminous cargo requiring cooling or freezing
Fantainer
The fantainer or fan box is intended for cargoes prone to condensation problems. The fantainer is a general purpose container, with similar internal dimensions with the ability to be easily converted into a fantainer. Located high in the container door is a hatch, fitted with an extraction fan, which is connected to an electricity supply when the unit is operated as a fantainer. In this mode, the cargo is stowed on pallets that form a false floor and create an air duct under the cargo. Air at ambient temperature is drawn into the floor by the extraction fan through a perforated front sill.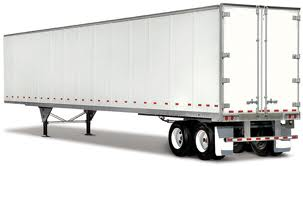 Fig :dry van box Container
Dry Van Boxes
The most common type
They have corrugated steel walls, timber base, steel or glass reinforced plastic (GRP) top.
Corrugated walls can be made from plate from as little as 1.6mm (1/16 inch) in thickness.
Their frame consists of side and end rails and corner pillars, fitted with corner castings.
The closed end is approximately 4.5 times more stiff, in racking strength, than the door end.
Garmentainer
Usually a 40ft high-cube container fitted with internal rails for carrying hanging garments. Care has to be taken to ensure that the rails are not overloaded or collapse may occur.
Related topics
2 in 1 container operation in cargo hold
How to load 45 feet containers
Container damage in ''2 in 1'' cargo Operation
Container handling more info pages:



Read more......





























Other info pages !
Ships Charterparties
Related terms & guideline
Stevedores injury
How to prevent injury onboard
Environmental issues
How to prevent marine pollution
Cargo & Ballast Handling
Safety Guideline
Reefer cargo handling
Troubleshoot and countermeasures
DG cargo handling
Procedures & Guidelines
Safety in engine room
Standard procedures
Questions from user and feedback
Read our knowledgebase
Home page

ShipsBusiness.com is merely an informational site about various aspects of ships operation,maintenance procedure, prevention of pollution and many safety guideline. The procedures explained here are only indicative, not exhaustive in nature and one must always be guided by practices of good seamanship.


User feedback is important to update our database. For any comment or suggestions please Contact us
Site Use and Privacy - Read our privacy policy and site use information.
//Home //Terms and conditions of use

Copyright © 2015 www.shipsbusiness.com All rights reserved.