Home page|| Tanker Notes || Container Ship Operations || Ocean Navigation ||





Ships trial- Turning circle diameter



Factors Affecting Turn: When a vessel fitted with a right-hand fixed propeller, she would benefit from the transverse thrust effect, and her turning circle, in general, will be quicker and tighter when turning to port than to starboard.

The following factors will affect the rate of turn and the size of turning circle:

1. Structural design and length of the vessel.

2. Draught and trim of vessel.

3. Size and motive power of main machinery.

4. Distribution and stowage of cargo.

5. Even keel or carrying a list.

6. Position of turning in relation to the available depth of water.

7. Amount of rudder angle required to complete the turn.

8. External forces affecting the drift angle.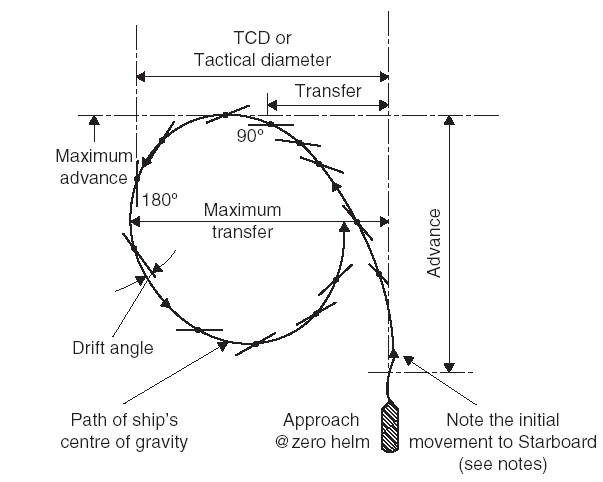 Fig. TCD manoeuvres. Ship run at full speed with rudder helm 35° P or S throughout this trial.


Related Topics

Ship manoeuvering-turning circle advices
A deeply laden vessel will experience little effect from wind or sea when turning, but a vessel in a light or ballasted condition will make considerable leeway, especially with strong winds. ....

Various factors affecting ships turning circle while manoeuvering
When a vessel fitted with a right-hand fixed propeller, she would benefit from the transverse thrust effect, and her turning circle, in general, will be quicker and tighter when turning to port than to starboard. ....

External factors that affecting ships turn
The deeper a vessel lies in the water, the more sluggish will be her response to the helm. On the other hand, the superstructure of a vessel in a light condition and shallow in draught is considerably influenced by the wind. ....

Ships navigation -Factors Affecting Turning circle diameter
Merchant ships usually turn in a circle having a diameter of about 3–4 times the length between perpendiculars (LBP). The larger the rudder, the smaller will be the Turning circle diameter(TCD). During the TCD manoeuvre, the ship will experience transfer, advance, drift angles and angle of heel (see Figure )....




Ship Encountering Parametric Roll In A Seaway

Action by vessels navigating in congested water

How to confirm stabilty condition ?

Guide to watch officer for ships navigation ?

Meeting rough sea conditions by containerships

Checklist for calculating stability and hull strength for cargo ship

Container Ship navigation - passage planning guideline

Navigation in cold districts and countermeasures

How to deal with engine or steering gear trouble ? ....




Other Info Pages
Home Our home page
Container ship advantages
Container Ship Operation Basic guidance
Procedures for safe helicopter operations
Ships navigational equipment in Pilotage operation
Check items in a navigational watch during pilotage
Navigation in cold districts and countermeasures
Site Map Page listing for this site.
Site Use and Privacy - Read our privacy policy and site use information.
Contact us

Copyright © 2009 Ships business.com All rights reserved.


NOTE:
Our articles are based on various shipboard activities,safe operation,maintenance and onboard procedure. User feedback is important to update our database.For any comments or suggestions please contact us ''Support[at]shipsbusiness.com''