Home page||| Tanker Notes ||| Container Ship Operations ||| Ocean Navigation |||


Causes of damage in 2 in 1 Cargo loading in a Containership - What is 2 in 1 loading ?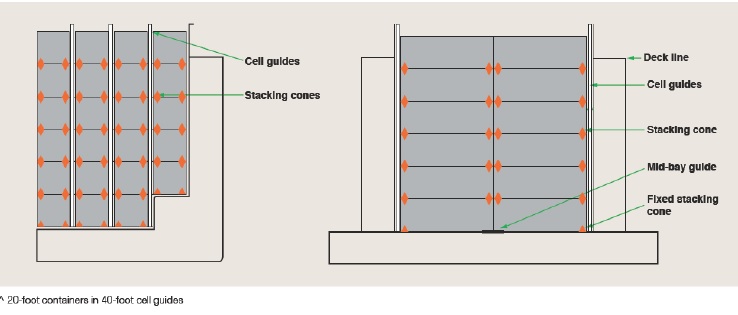 20 feet container stowage in 40 feet cellguides


2 in 1 cargo hold means vessels under deck hold, which could accommodate 1 x 40 feet or alternatively 2 x 20 feet in the same row at planners convenience. This gives very flexible option to operators for stowage planning and has already become common practice among many shipping lines.

Regrettably, however, there are cases often receive container damage report which is caused by misoperation in 2 in 1 cargo hold. Main reasons are categorized as follows:

1) Either or both of 2 x 20 feet are not properly stowed on base cones or fitting guide on hold bottom.

2) Stacking cones used for stacking 20 feet containers are not properly set or not removed when not necessary.

3) Base cones used for stowing 2 x 20 feet are not removed before stowing 1 x 40 feet in the same row resulting bent/ damage Corner posts of a container. The corner post connect the upper corner casting of a container to the lower one and form one of the most stable parts of the container.

You are required to take photo of these situations on board when possible if you find it.



Related articles

2 in 1 container operation in cargo hold

How to avoid wet damage by hold bilge

Loading of 20 feet containers

How to load 45 feet containers

How to avoid cargo damage in containership



Container handling more info pages:





Read more......





























ShipsBusiness.com is merely an informational site about various aspects of ships operation,maintenance procedure, prevention of pollution and many safety guideline. The procedures explained here are only indicative, not exhaustive in nature and one must always be guided by practices of good seamanship.


User feedback is important to update our database. For any comment or suggestions please Contact us
Site Use and Privacy - Read our privacy policy and site use information.
Terms and conditions of use

Copyright © 2015 www.shipsbusiness.com All rights reserved.