Home page||| Tanker Notes ||| Container Ship Operations ||| Ocean Navigation |||


Containership operation: On Deck Loading & Securing of 20feet Containers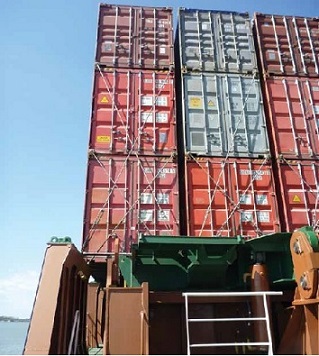 Lashing pattern of outboard containers


20feet containers loaded on deck must be spaced apart in order to leave room for lashing each container on the fore and aft ends. Closed loading is not allowed unless specifically mentioned in the cargo securing manual or loading manual as in such case lashing can be taken only on one end of the container. Also when loading a mixed stow on deck, i.e. 20' containers amidst 40' containers in the same Bay, care must be taken when planning the stow.

If the 20' containers are blocked, is closed off by 40' containers on either side, it will not be possible to take lashing at the inner ends of the 20' containers. (so called "sandwich stow")

If such lashing has been taken before loading the 40' containers on either side, then the problem will occur when checking lashings at sea and when discharging the 20' containers as the inner end lashings will be inaccessible.

Empty Containers Use of Wire Slings : Wire slings may be used for the lifting of empty containers only – they shall not be used for loaded containers.

Stowaways in empty containers : Personnel must always be aware of the use of empty containers by stowaways. Every effort is to be made to ensure all empty containers are checked and sealed prior to loading. The details of action taken to prevent stowaways boarding in empty containers must be recorded in the deck log book.

Damaged Empties : Whenever damaged empty containers are to be loaded, care must be taken to ensure that the damage details are agreed with the Stevedore, Charterers Agent and recorded on the cargo paperwork.


Cargo Securing general guideline

1) When containers are carried on deck, the ship is required to be approved for that purpose and the containers themselves are secured with twistlocks and lashings. These usually consist of steel rods and turnbuckles. Lashing pattern to be followed on board is detailed in the vessels cargo securing manual.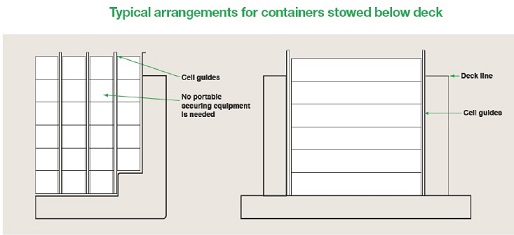 Containers stowed below deck


2) When cntrs are carried under deck, the containers are slotted into cells on a cellular container ship. When carried within a cell guide framework, no further external support is generally required. When 20' containers are stowed below deck in 40' cell it may be necessary to over- stow the 20' containerswith a 40' containers. The Cargo Securing Manual should be consulted before loading.

3) Vessels lashing requirement as per the cargo securing manual must be informed to the terminal staff, stevedoring company as required and if necessary copies of the "Lashing Patterns" must be provided. There must be a clear understanding as to the vessels lashing requirements in order to avoid delays and non compliance with cargo securing requirements.

4) Loose cargo securing devices after discharging containers must be stowed away safely\ in designated lashing bins on deck. After cargo operations are completed, it must be ensured that no loose securing devices are lying on container tops, hatch covers or such places so as to pose a potential threat of injury or damage.

5) Ships lashing gear must be well cared for and crew must always be vigilant to avoid loss of lashing material. The loss are mainly due to pilferage, damage, or being left on the quay, and Twist-locks remaining on discharged containers are carried away to the yard.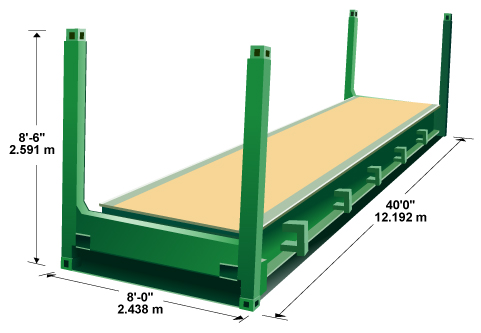 Fig :Flat Rack Container showing corner castings at each corner
6) Corner fittings located at all eight corners of the container are called corner castings. They are used to handle the container. Lifting gear, such as container gantries and cranes, is attached to the corner castings of the containers in order to lift them. The corner castings are used in conjunction with twist locks to secure containers when traveling on road vehicles or stack and fasten them securely to the deck of ocean-going vessel. The twist locks are placed in the corner castings and engage with the corner castings (on the floor) of the next container.
Related topics
2 in 1 container operation in cargo hold
How to load 45 feet containers
Container damage in ''2 in 1'' cargo Operation
Container handling more info pages:



Read more......




























Other info pages !
Basic guideline for Container Ship Operation
Tanker vessel safety guideline
Check items in oil tankers operation
Questions from user and feedback
Read our knowledgebase
Cargo care at sea
Precautions to be taken
Reefer cargo handling
Troubleshoot and countermeasures
DG cargo handling
Procedures & Guidelines
Cargo securing
Check items prior departure port
Safe navigation
Various factors affecting ships navigation at sea
Hull strength & stability
Prior loading how to ensure hull strength & stability of ship
stevedores injury
How to prevent injury onboard
Environmental issues
How to prevent marine pollution
Safety in engine room
Standard procedures
Site Map
Page listing for this site.
Home page

ShipsBusiness.com is merely an informational site about various aspects of ships operation,maintenance procedure, prevention of pollution and many safety guideline. The procedures explained here are only indicative, not exhaustive in nature and one must always be guided by practices of good seamanship.


User feedback is important to update our database. For any comment or suggestions please Contact us
Site Use and Privacy - Read our privacy policy and site use information.
Terms and conditions of use

Copyright © 2015 www.shipsbusiness.com All rights reserved.