Home page|| Tanker Notes || Container Ship Operations || Ocean Navigation ||



Containership operation: Handling Breakbulk,out of gauge (OOG) and Open containers

Break bulk cargo is usually stowed on flat racks and platforms. It is important to confirm that the break bulk cargo itself is properly secured onto the Flat rack or Platform prior loading on board. If additional lashing or tightening of existing lashing is required, this must be done by terminal staff to the vessels satisfaction.

If not, vessel operator shall be advised of situation and in any case such shipment posing serious danger to vessels safety shall not be accepted for carriage.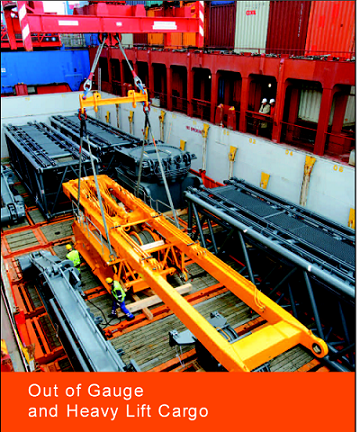 Fig :Out of gauge cargo
Prior loading out of gauge cargo, hatch cover clearance and cell guide clearance must be verified to confirm that there will be no contact or damage to the vessel or cargo when loaded. Close monitoring during loading will also be required as sometimes protrusion dimensions provided may not be accurate. Loading
Out of gauge units
will likely involve use of special equipment attached to gantry cranes.
Careful watch is required on such operation as it is more prone to resulting in damage to vessel or cargo if not handled well. Loaded open containers like open top units, flat racks, platforms etc are usually stowed Under Deck and in case of an On Deck Stow. Local planner or agent may be requested for such approval prior loading.
Related topics
2 in 1 container operation in cargo hold
How to load 45 feet containers
Container damage in ''2 in 1'' cargo Operation
Container handling more info pages:



Read more......





























Other info pages !
Ships Charterparties
Related terms & guideline
Stevedores injury
How to prevent injury onboard
Environmental issues
How to prevent marine pollution
Cargo & Ballast Handling
Safety Guideline
Reefer cargo handling
Troubleshoot and countermeasures
DG cargo handling
Procedures & Guidelines
Safety in engine room
Standard procedures
Questions from user and feedback
Read our knowledgebase

ShipsBusiness.com is merely an informational site about various aspects of ships operation,maintenance procedure, prevention of pollution and many safety guideline. The procedures explained here are only indicative, not exhaustive in nature and one must always be guided by practices of good seamanship.


User feedback is important to update our database. For any comment or suggestions please Contact us
Site Use and Privacy - Read our privacy policy and site use information.
Terms and conditions of use

Copyright © 2015 www.shipsbusiness.com All rights reserved.