Home page|| Tanker Notes || Container Ship Operations || Ocean Navigation ||



Congested water navigation- Increased risk of collision off Singapore-Navigational guideline for cargo ships

Vessels are transiting through, or anchoring in, the territorial waters of Singapore, including the Eastern and Western outer port limit (OPL) anchorages of Singapore, are urged to be especially careful in the avoidance of collisions with other ships. An increased risk of collisions in this area where there has been a large accumulation of vessels lying at anchor.

It would appear that the most recent spate of collisions has occurred at the Eastern OPL anchorage, where a number of ships maneuvering within the area have collided with vessels already at anchor.

Evidence suggests that the collisions have for the most part occurred due to the maneuvering vesselís failure to correctly estimate the strength and direction of the local tidal currents. In addition, in the case of unexpected weather changes involving thunderstorms etc., there have also been contacts between vessels already lying at anchor.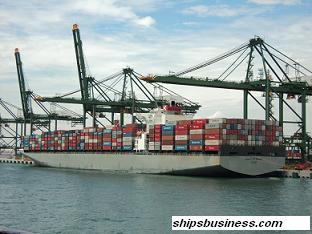 Experts familiar with these circumstances suggest that caution should be used in selecting a suitable location to anchor, with due regard to the proximity of other anchored vessels, the strength and direction of prevailing tidal currents and the speed and direction of the wind at the time maneuvering takes place.

While a vessel is at anchor, it is advised that a full anchor watch should be maintained at all times, with the vesselís engines being kept in an appropriate state of readiness. It is also suggested that bridge watch keeper(s) should not be distracted from their duties by other work at that time.

The congestion at Singapore has become a matter of considerable anecdotal comment Ė not least for those flying into Changi Airport on certain approaches who are best able to see with their own eyes the multitude of vessels anchored in the areas in question!

The area around Singapore has traditionally been one of the busiest in the shipping world due to large numbers of vessels transiting the straits or calling at the port. It is common to see a large number of vessels anchored off the port, many of them outside port limits to the east and west of the island.

Anchoring in non designated areas can be extremely dangerous and cause considerable risks to traffic moving around in this busy seaway. The area between the outer port limits and the Traffic Separation Scheme (TSS) is quite small and as the area has filled with ships, some have drifted or anchored too near or inside the TSS.

Vessels found to be anchored in the TSS risk being boarded by officers of the Singapore MPA, reported to Flag state and named on the regular Navtex warnings.

It is to consider anchorages carefully in this area and if any doubts to contact the local correspondent or port authority, vessels should anchor in designated anchorages and ensure that they are not obstructing the TSS or other local hazards.


Other notable areas for congested waters around the world

The following areas are suggested to be considered as Congested Waters:

a) The Japan Coast Including Osumi Kaikyo & Tsugaru Kaikyo

b) Taiwan Strait

c) Singapore Straits (including 20nm NE of Horsburgh) and Malacca Straits (including 20nm NW of One Fathom Bank)

d) Strait of Bab-El-Mandeb

e) Gulf of Suez (Including Strait of Gubal)

f) Gibraltar Strait (including 20 nm either side of Europa Point)

g) The English Channel (Including TSS off Ushant)

h) Dover Strait

i) Maas Approach

j) TSS off Texel & Vlieland

k) Areas of Heavy Fishing Traffic (e.g. East Coast of China)

l) Any other area where heavy traffic is encountered





Related Information

Navigational guideline for ships in congested waters

Confined water safety precautions

How to navigate your ship in a heavy weather ? ....

Passage planning guideline for navigation in confined water ....

Passage planning guideline for navigation in restricted visibility ? ....

Affects of Shearing forces, Bending moments and Torsional moment for containership

Risks of heavy weather with containerized cargo onboard

Ships motion in heavy weather



More shipboard operation and safety matters

Safe anchoring - planning and operational guidance for cargo ships

Anchor watch check item - deck officers guideline ....

How to deal with a damaged anchor? ....

How to recover a lost anchor ? ....

What is stranding ? Investigation of possibility of self-refloating and urgency of danger ....

What are the emergency procedures for loss of anchor and chain? ....

In case of damage to anchor and chain when to claim for '' general average"? ....

Ships arrival in ports - check item prior entry

Ships navigation in restricted visibility check items

Rules of ships navigation in restricted visibility

Ships navigation in confined water - matters that require attention

Securing your vessel for sea passage - when to check and what to check

Collecting Information and Data for Passage Planning







Other info pages !

Ships Charterparties Related terms & guideline
Stevedores injury How to prevent injury onboard
Environmental issues How to prevent marine pollution
Cargo & Ballast Handling Safety Guideline
Reefer cargo handling Troubleshoot and countermeasures
DG cargo handling Procedures & Guidelines
Safety in engine room Standard procedures
Questions from user and feedback Read our knowledgebase
Home page




ShipsBusiness.com is merely an informational site about various aspects of ships operation,maintenance procedure, prevention of pollution and many safety guideline. The procedures explained here are only indicative, not exhaustive in nature and one must always be guided by practices of good seamanship.


User feedback is important to update our database. For any comment or suggestions please Contact us
Site Use and Privacy - Read our privacy policy and site use information.
//Home //Terms and conditions of use

Copyright © 2015 www.shipsbusiness.com All rights reserved.