Home page|| Tanker Notes || Container Ship Operations || Ocean Navigation ||



General guidance for Container ship cargo stowage and planning & keeping records

Containership cargo operation need careful consideration at various stages .The procedures explained here are only indicative, not exhaustive in nature and one must always be guided by practices of good seamanship. Below is our articles for safe cargo handling onboard , Prior Commencing Cargo Operation On Arrival Port,On Receiving Cargo Stowage plan,During Cargo Operations,On Completion of Cargo Operations.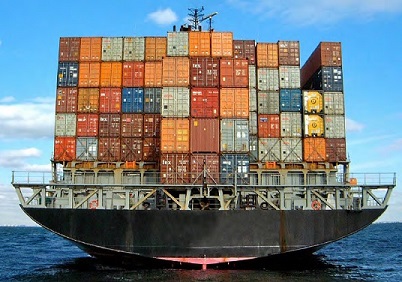 Containership loaded condition


Maintaining cargo records: The P&I clubs stress the importance of keeping records in order to help defeat cargo claims. Claimants usually allege that any cargo damage noted has occurred during the loaded voyage, whereas in fact it is more likely to have occurred ashore.

Documentary evidence required by P&I club claims handlers includes:
bilge, ballast and bunker sounding and pumping records;
cargo ventilation, humidity and temperature records;
records of unusual weather conditions, routeing details, warnings and weather reports;
records of hatch, access, hold and watertight door checks;
records of fire and safety equipment checks, including log entries of and records of training and safety exercises;
records of cargo securing and lashing rounds and checks;
records of cargo temperatures (heating or cooling) where appropriate;
records of inert gas and venting operations;
records of reefer defrosting and temperature control;
records of temperatures in fuel oil tanks below sensitive cargoes.
Requirement for ships certificates

It is a legal requirement that the vessel's certification and classification records are maintained in an updated condition. Failure to comply with certification requirement may result in a heavy fine, arrest or a penalty and loss of insurance due to the infringement of flag/port state requirements and/or insurance underwriter/P&I Club clauses.

Responsibility for maintaining clean and updated vessel's certification is shared between the Master and the relevant Management Office Staff. The Master is responsible onboard for maintaining updated class, statutory and trading certificates.

The Chief Engineer and Chief Officer are responsible for monitoring and maintaining updated files and inspection logs of continuous surveys for their own departments. The "Certificate Checklist" must be kept updated.


On Arrival Port, Prior Commencing Cargo Operation


The composition of cargo watch personnel shall be decided and duties well understood.


All personnel involved in the cargo watch shall be briefed regarding the expected operations and provided with a Cargo Discharge Plan.



Lashing gear operating tools including Turnbuckle handle, Release bar, Extension pole etc are to be kept standby on deck for use during port stay.





Hatch cleats, Jumping stoppers, King bolts etc of all hatches to be worked in port, shall be opened and cleared.



Hydraulic system for ballast valve operation shall be activated, power and availability of Ballast and Heeling pumps confirmed.



Auto Heeling System shall be put into operation.



Forward, aft and mid-ship drafts shall be visually checked and Draft gauges compared.



Prepare necessary document from the last port



Prepare necessary document for Stevedore concerned



On Receiving Cargo Stowage plan

1) The Cargo Stow Plan file provided by Terminal planner / Local agent shall be imported into the vessels loading computer for confirming acceptability.

2) From the stowage plan provided, following shall be checked and verified with regards to cargo stowage:-

a) Stacking Weights

b) Lashing Strength

c) Dangerous Cargo Stowage & Segregation

d) Reefer Container stowage

e) Out of gauge container stowage

f) Special container stowage

g) 20' or 40' or 45' compulsory stowage locations

h) Irregular stowage of containers

i) Over-stow of containers

j) Hatch cover clearance (HC containers Under deck stow)

k) Other matters regarding cargo stowage as necessary



3) From the stowage plan provided, following shall be checked and verified with regards to hull strength and stability:-

a) Draft, Trim and Heel

b) IMO intact stability criterion

c) Corrected GoM

d) Severe wind and rolling criterion

e) Visibility from Bridge

f) Propeller immersion

g) Shearing forces, Bending moments and Torsional moment

h) Other factors affecting hull strength and stability as necessary



4) If any of the factors listed above are beyond acceptable limits, every effort shall be made to bring them within acceptable limits. This shall be done by liaising with Terminal planner, Local agent and Central planner as required.

5) After confirming stow plan is acceptable, all concerned parties shall be informed and cargo loading be allowed to commence.

6) All personnel involved in the cargo watch shall be briefed regarding the expected operations and provided with copy of the cargo plans.

7) Cargo watch personnel shall also be provided with special cargo stowage plans and manifests as necessary.

8) If changes to the ships ballast water condition are necessary, the chief officer shall make a Ballasting / De-ballasting plan.

9) Such Ballasting / De-ballasting plan shall take into account all applicable ballast water regulations/restrictions and other relevant factors including time available for the operation.

10) The officer in charge of the cargo watch shall be briefed regarding such plan and will be responsible for its safe execution unless the chief officer/master is doing the operation himself.




During Cargo Operations

1) Progress of cargo operations shall be monitored by cargo watch personnel to confirm operations are as per the approved loading and discharge plans. Any deviations must be brought to the attention of the terminal planner.

2) Close monitoring is especially required for special containers like reefer units, DG units, Out of gauge containers etc.

3) Progress of the Ballasting / De-ballasting operations shall be checked by the officer in charge of the cargo watch or chief officer / master if he is doing the operation.

4) Stability condition of the vessel shall be periodically monitored during cargo operations especially as to Draft (within applicable load line mark or port restrictions), Trim (not excessive), Heel (max. 2ºport or stbd) and GoM (more than 0.60m). The ship shall never be allowed excessively heeled or trimmed and the chief officer is responsible for ensuring good positive stability and acceptable condition of Heel / Trim at all times.

5) Opening/closing operation of hatch covers shall be supervised by cargo watch personnel. Prior operation, it must be confirmed that securing arrangements are cleared and no obstructions / loose material pose danger of damage to vessel.

6) Vigilance is to be maintained for any damage caused to vessel or cargo.

7) Cargo securing/lashing operations shall be continuously monitored by cargo watch personnel and not left for the end in order to avoid any delay after completion of cargo operations.

8) A log of all important events shall be maintained by the officer in charge of the cargo watch. Times of Commencing / Ceasing Cargo operations, Opening / Closing Hatch covers, Stoppages with Reasons, Number of cranes operating etc shall be clearly recorded in this port log.


On Completion of Cargo Operations

1) The Chief Officer shall be responsible for calculating final departure Hull strength and Stability condition of the vessel. Confirmation must be made as to meeting all relevant hull strength and stability criterion up to vessels arrival next port.

2) The Chief Officer shall confirm that all cargo intended for the port has been discharged.

3) Cargo securing/lashing must be completed as per vessel's approved Cargo Securing Manual prior departure from the port. Additional lashing may be taken at master's discretion considering nature of voyage, weather etc.

4) If not practicable to complete all cargo securing/lashing prior departure due to compelling reasons, then weather permitting, some remaining inboard containers may be secured later, but prior leaving sheltered waters. All outboard cargo lashing must be taken prior departure from berth.

5) All vessels gear box containers with bins shall be placed on board in their designated locations or at suitably protected locations. Also it shall be confirmed that all vessels cargo securing equipment is placed back on board with none left on the quay.

6) Hatch covers shall be secured by Hatch cleats, Jumping stoppers, King bolts etc prior to departure from port. If not practicable then weather permitting, they shall be secured later, but prior leaving sheltered waters.

7) Any residual heel shall be corrected and auto heeling system switched off by following correct procedure.

8) Forward, aft and mid-ship drafts shall be visually checked and draft gauges compared.

9) Confirm necessary documents for Cargo have been received.

10) Confirm necessary document for Stevedore concerned have been received.



Related articles

Containership operation : Cargo Securing

Containership operation : Common reasons for stowfall

Basic guideline for Container Ship Operation

Containership operation: Cargo hold ventilation

Containership operation: Safety of personnel

Containership operation: wet damage in cargo hold

Reefer cargo Handling In Port

Reefer cargo care at sea

Commodities Shipped In Reefer Containers

Reefer Cargo Temperature Recording

Reefer Cargo Maintaining Records

Reefer Cargo Defrosting

Basic check item prior stowing Reefer Cargo

Preventing Reefer Cargo deterioration



Container handling additional guideline:

Containership cargo stowage and planning

Stacking Weights Restrictions

Lashing strength calculation

Dangerous goods stowage and segregation

Reefer Container Stowage

Out of Gauge Container Stowage

Special Container Stowage

20 or 40 or 45 feet Compulsory Stowage Locations

Irregular Stowage of Containers

Over-stow of Containers

Hatch Cover Clearance (High cube containers Under Deck )

Other matters regarding cargo stowage as necessary

How to load maximum number 20 feet container on deck ?

What are the extra precaution should be taken prior loading a 45 feet container on deck ?

Container damage in ''2 in 1'' cargo Operation

Modern containership & loading of various container types

How to load containers coming in different forms/sizes



Our additional pages contain somewhat larger lists of resources where you can find useful informations






Other info pages !

Ships Charterparties Related terms & guideline
Stevedores injury How to prevent injury onboard
Environmental issues How to prevent marine pollution
Cargo & Ballast Handling Safety Guideline
Reefer cargo handling Troubleshoot and countermeasures
DG cargo handling Procedures & Guidelines
Safety in engine room Standard procedures
Questions from user and feedback Read our knowledgebase
Home page




ShipsBusiness.com is merely an informational site about various aspects of ships operation,maintenance procedure, prevention of pollution and many safety guideline. The procedures explained here are only indicative, not exhaustive in nature and one must always be guided by practices of good seamanship.

User feedback is important to update our database. For any comment or suggestions please Contact us
Site Use and Privacy - Read our privacy policy and site use information.
//Home //Terms and conditions of use

Copyright © 2015 www.shipsbusiness.com All rights reserved.