Dangerous Cargo Documentation in Container ship
Procedures and guidelines for stowage and segregation of dangerous cargo
, shall be adhered to additionally:
1) Every dangerous cargo shipment shall be made in line with IMO policy and be accompanied by required documentation. DG cargo with restricted/prohibited UN numbers shall not be accepted for shipment unless under special circumstance express permission is obtained from the company.
2) All DG containers must be checked for proper label/placard as required by the IMDG code. A stock of spare labels/placards must be kept on board.
3) DG containers must be checked for condition prior loading and leaking or damaged containers posing a hazard, shall be rejected.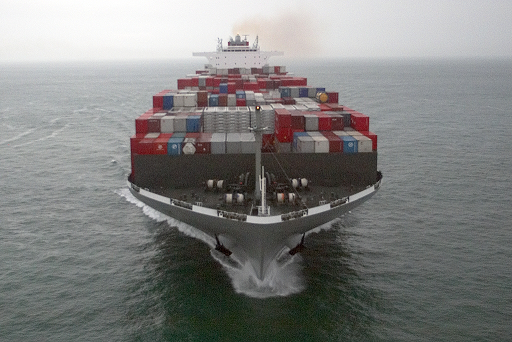 4) It must be ensured that all DG containers are loaded in the planned stow position. Any discrepancies shall be brought to the notice of the Terminal planner / Central planner and / or local agent as required.
The final condition may be accepted only if meeting all stowage and segregation requirements; else it must be corrected by discharging / shifting concerned container(s).
5) The requisite day/night signals for vessels carrying / loading / discharging dangerous cargo shall be displayed.
6) When handling/carrying dangerous cargo on board smoking shall strictly not be allowed other than in designated smoking areas. Signs/placards shall be appropriately displayed at gangway and on deck.
7) Location and properties of dangerous cargo shall be considered when carrying out any special work on board such as hot work etc.
Obtain container packing certificate
Certificate indicating correct loading of a dangerous goods container and the observance of the regulations set out in the IMDG Code (International Maritime Dangerous Goods Code). The container packing certificate is issued by the person responsible for packing the container.
8) Other precautions shall be taken when handling dangerous cargo shipments as warranted by good seamanship, SOLAS, MARPOL, IMDG code, local and national regulations.
9) Further guidance for handling D.G cargo is contained in IMDG Code vol 1, 2 & supplement.
Related articles
Required Documents For Stowing Dangerous cargo
DG cargo handling
Procedures & Guidelines
Container handling additional guideline:
Containership cargo stowage and planning
Stacking Weights Restrictions
Lashing strength calculation
Dangerous goods stowage and segregation
Reefer Container Stowage
Out of Gauge Container Stowage
Special Container Stowage
20 or 40 or 45 feet Compulsory Stowage Locations
Irregular Stowage of Containers
Over-stow of Containers


Hatch Cover Clearance (High cube containers Under Deck )


Other matters regarding cargo stowage as necessary
How to load maximum number 20 feet container on deck ?
What are the extra precaution should be taken prior loading a 45 feet container on deck ?
Container damage in ''2 in 1'' cargo Operation
Modern containership & loading of various container types
How to load containers coming in different forms/sizes
Our additional pages contain somewhat larger lists of resources where you can find useful informations


For any comments or suggestions please Contact us
Site Use and Privacy - Read our privacy policy and site use information.
Terms and conditions of use

Copyright © 2010 www.shipsbusiness.com All rights reserved.