Home page|| Tanker Notes || Container Ship Operations || Ocean Navigation ||



How to prevent reefer cargo deterioration ? Technic of Controlled Atmosphere (C.A.)

Reefer containers require special care after they are loaded on board ship. These containers need to be supplied with power, monitored closely for proper function and repaired as required in case of malfunction.The article here is about procedures and guidelines on how to troubleshoot , repair & preserve the cargo and to avoid deterioration.

Controlled Atmosphere (C.A.) cargoes

Controlled atmosphere storage or transportation provides a means of augmenting (but not replacing) refrigeration in order to enhance the shelf life of fresh fruits and vegetables and has been extensively adopted for use in refrigerated ships.

The respiration rate of produce is closely related to its rate of maturation and subsequent deterioration. Respiration is reduced by holding at an optimum temperature as low as possible without freezing or chilling the produce. It may be reduced further by lowering the oxygen content of the surrounding air. Atmospheres containing below 2% oxygen are found to be most beneficial, though the exact composition of an optimum atmosphere is species and variety dependent. The degree of benefit obtained from C.A. varies widely between different types of produce and it may be advantageous to use additional controls on carbon dioxide, humidity and ethylene level for some produce.

Low oxygen and high carbon dioxide atmospheres have also been used to slow microbiological deterioration of fresh meat, though this is more often done nowadays using vacuum packaging or similar techniques.

It should be noted that the shelf life of produce, previously subjected to C.A. and then stored in air, has not been fully investigated for many varieties. It should also be noted that whilst some produce (e.g. apples, bananas) may be transported without C.A. and could therefore possibly be carried without major loss in the event of C.A. failure, much subtropical produce may not survive the length of a sea voyage without C.A.

A common means of providing C.A. in a ship's hold involves the use of a nitrogen generator which uses a membrane to act rather like a sieve and effectively separates nitrogen and oxygen from the air. A nitrogen enriched stream (about 98% nitrogen) is then injected into the hold space under appropriate controls in order to maintain the desired atmospheric composition. For the system to be effective, good sealing and good control are needed.

It is essential to understand that C.A. involves flooding hold spaces with an atmosphere which will not support human life. Safety is therefore a paramount issue and control of access to cargo spaces together with warnings and alarms is essential. Specific recommendations are provided by classification societies such as Lloyd's Register of Shipping.

Individual ship owners/operators will provide clear instructions for the procedures to be adopted when loading, carrying and discharging cargo under C.A. conditions to ensure that ships' staff and stevedores are protected. Such instructions must be followed rigorously.

Similarly, shippers will provide detailed instructions for the carriage of a specific cargo and these instructions must also be strictly followed.

Reefer repair

a) If a temperature controlled unit malfunctions while the vessel is in port, the terminal Operator and the ship Operator's Agent shall be notified and they will, in turn, be responsible for notifying the Container Operator which is operating the unit in question.

b) While at sea, it shall be the ship's personnel's responsibility to make all necessary repairs possible to any malfunctioning unit to the best of their ability and contact the charterers for advice.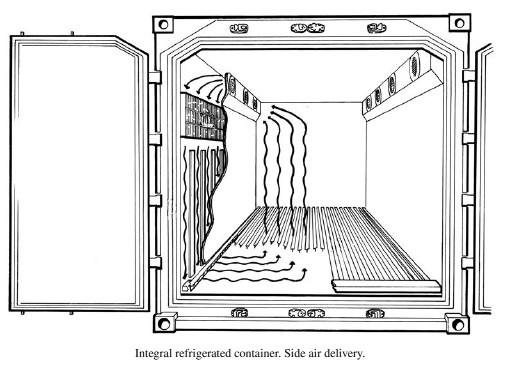 Integral reefer container side air delivery


c) All repairs performed by the ship shall be documented for each container. The minimum information that must be recorded on is as follows:
i. Vessel's Name / Voyage Number
ii. Container Number
iii. Container Operator
iv. Port of Loading / Port of Discharge
v. Refrigeration Unit Manufacturer's Name / Model
vi. Temperature Set Point
vii. Return and Supply Air Temperature before and after repair
viii. Ambient temperature
ix. Indicated Controller Alarms
x. Ventilation Opening Scale
xi. Dehumidification Setting
xii. Date of Malfunction discovery
xiii. Date of repair
xiv. Description of work performed (including temporary repairs)
xv. Description, part number and quantity of parts used
xvi. Signature
d) The "Reefer Container Trouble Report" should be sent to the charterer and the Vessel management office.

e) If the ship requires spare parts replenishment, the ship should submit the Reefer Container Trouble Report to charterer and the Vessel management office as soon as possible after the reefer is repaired.

Damage and Failure Report for Refrigeration Unit
f) If a malfunctioning unit cannot be repaired onboard, and possible cargo damage is anticipated, it shall be the vessel's responsibility to report the situation to the Container Operator as soon as possible. This report shall include the following information:
i. Vessel's Name / Voyage Number
ii. Container Number
iii. Load Port / Discharge Port
iv. Commodity
v. Temperature Set Point (in degrees Celsius)
vi. Work performed
vii. Current return and supply air temperature (in degrees Celsius)
viii. Current return and supply air temperature (in degrees Celsius)
ix. Ambient temperature
x. Defrost interval
xi. Stowage location
xii. ETA & Location of Next Port of Call
xiii. Status of Reefer unit
1. Electric power line
2. Condition of compressor with amperage reading
3. Alarm item
4. Discharge and suction pressure

g) If, at any time, the ship needs technical assistance addressing refrigeration unit problems, enquiries should be sent to the container operator or charterer.

Caution prior reefer loading

(1) Check and monitor each reefer container as per voyage instruction, which requires following basic check items.

Upon sailing from a loading port, make sure ;

a) if number of reefer containers loaded matches that of reefer list

b) if the temperature of all the reefer containers loaded matches reefer list temperature

c) if ventilation setting of all the reefer containers loaded is all OK

d) if power plugs of all the reefer containers are duly connected

e) if all the reefer containers are (seem to be) working normally


(2) Once any malfunction or troubles are detected, make immediate report to the concerned parties as per voyage instruction. If they are reefer units, also follow instructions provided .



Related articles


Reefer cargo Handling In Port
Reefer containers shall be plugged in and supplied with ships power as soon as practicable after loading. In case it is to be done by shore hands, ships crew shall still closely monitor the operation and confirm that all reefer containers are supplied with power earliest after loading....

Reefer cargo care at sea
At sea, all reefer containers shall be monitored by checking physically at least Twice daily (weather permitting). All monitored data for each reefer container on board shall be entered in a reefer monitoring log and retained for 3 years. Some reefer containers with special cargo (e.g.: VIP cargo) come with instructions for more frequent monitoring and reporting. Such instructions shall be strictly followed. ....

Commodities Shipped In Reefer Containers
Some cargoes may require controlled humidity (e.g. flower bulbs). It should be remembered in such cases that many refrigeration units are only capable of reducing humidity within the cargo space and the settings should be applied accordingly. ....

Reefer Cargo Temperature Recording
A Partlow recorder registers temperature on a pressure sensitive circular chart over 31 day period. If the voyage transit is expected to exceed 31 days, care must be taken to ensure charts are replaced before expiry. The first chart should be placed under-neath the new chart in order to build up a complete temperature record for the entire voyage up until arrival at the final destination. .....

Reefer Cargo Maintaining Records
Monitoring the digital & chart temperatures of all reefer containers at least twice a day. Daily reefer container temperature check lists should be maintained, and printouts from monitoring unit should be preserved.....

Reefer Cargo Defrosting
During the operation of a refrigeration unit, a layer of ice will form on the evaporator coils depending on the temperature set, the temperature of the cargo, the amount of fresh air ventilation and the cargo humidity. The unit periodically enters a phase where heat is produced by a series of electrical bars, allowing defrosting to take place. At such times, all fans are turned off automatically in order to prevent heat from entering the cargo compartment. ....

Basic check item prior stowing Reefer Cargo
Stowage location of reefers must be checked against vessels reefer receptacle locations. In case reefer containers must be loaded in irregular locations, it must be confirmed that monitoring and repair will be possible during the voyage and that vessel has sufficient extension cables for providing power. ....



Container handling additional guideline:

Containership cargo stowage and planning

Stacking Weights Restrictions

Lashing strength calculation

Dangerous goods stowage and segregation

Reefer Container Stowage

Out of Gauge Container Stowage

Special Container Stowage

20 or 40 or 45 feet Compulsory Stowage Locations

Irregular Stowage of Containers

Over-stow of Containers

Hatch Cover Clearance (High cube containers Under Deck )

Other matters regarding cargo stowage as necessary

How to load maximum number 20 feet container on deck ?

What are the extra precaution should be taken prior loading a 45 feet container on deck ?

Container damage in ''2 in 1'' cargo Operation

Modern containership & loading of various container types

How to load containers coming in different forms/sizes



Our additional pages contain somewhat larger lists of resources where you can find useful informations








Other info pages !

Ships Charterparties Related terms & guideline
Stevedores injury How to prevent injury onboard
Environmental issues How to prevent marine pollution
Cargo & Ballast Handling Safety Guideline
Reefer cargo handling Troubleshoot and countermeasures
DG cargo handling Procedures & Guidelines
Safety in engine room Standard procedures
Questions from user and feedback Read our knowledgebase
Home page




ShipsBusiness.com is merely an informational site about various aspects of ships operation,maintenance procedure, prevention of pollution and many safety guideline. The procedures explained here are only indicative, not exhaustive in nature and one must always be guided by practices of good seamanship.


User feedback is important to update our database. For any comment or suggestions please Contact us
Site Use and Privacy - Read our privacy policy and site use information.
//Home //Terms and conditions of use

Copyright © 2015 www.shipsbusiness.com All rights reserved.