Home page|| Tanker Notes || Container Ship Operations || Ocean Navigation ||



General guidance for Reefer Cargo Temperature Recording

Reefer containers require special care after they are loaded on board ship. These containers need to be supplied with power, monitored closely for proper function and repaired as required in case of malfunction.The article here is about procedures and guidelines on reefer cargo Temperature Recording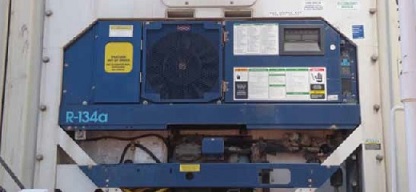 Reefer machinery


A Partlow recorder registers temperature on a pressure sensitive circular chart over 31 day period. If the voyage transit is expected to exceed 31 days, care must be taken to ensure charts are replaced before expiry. The first chart should be placed under-neath the new chart in order to build up a complete temperature record for the entire voyage up until arrival at the final destination.

These charts should always carry the following endorsements:
>Name of Vessel
> Voyage Number
> Container Number
> Temperature Setting
> Load Port
> Discharge Port
> Date of Stuffing/Change
> Ventilators: Closed/Open (degrees)
> Humidity Controls (HMC) (percentage)
Data logger recorders may monitor both air and a cargo pulp temperature within a reefer unit and the data is stored in an electronic memory.

The memory also logs PTI (Pre Trip Inspection) results, alarms and transit details (e.g. shifting of the container in port). The information is more comprehensive and accurate than indicated by a Partlow chart alone.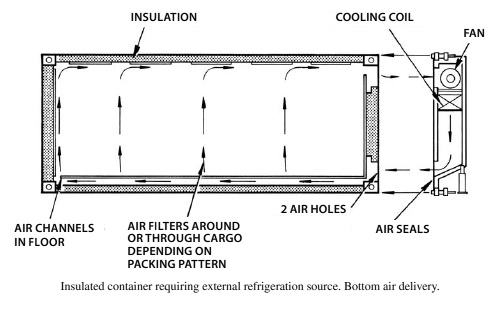 Insulated container requiring external refrigeration source.

Bottom air delivery.


Temperature Measurement

It is uncommon to find mercury or alcohol glass thermometers in use today but it is worth covering their use. When using these instruments (apart from their fragile nature as with all types of thermometers) it is important that the sensing head (in this case the bulb) is kept in the environment where the temperature is required to be known long enough for all the liquid in the bulb to settle to that temperature and ensure the correct degree of expansion or contraction. It must also be shielded from extraneous sources of heat or cold. With liquid cargoes it is simple enough to immerse the bulb for a few minutes and in the case of solids, if not too dense, it may be possible to carefully insert the thermometer.

Metal sheathed (spear) thermometers enable proper penetration but require a longer time to achieve the true temperature of the commodity being measured. In other instances it may be necessary to drill a hole (particularly in hard-frozen commodities) to ensure penetration to the heart of the article to obtain an accurate temperature. In the case of sealed packages such penetration may destroy or reduce their value and a close approximation of the temperature can be obtained by sandwiching the thermometer between two packages and wrapping them together for a while to exclude draughts and other outside influences.

It may well be considered advisable, on receiving a cargo of sealed packages, the temperatures of which have to be ascertained, to penetrate selected samples and ensure they are conspicuously marked so that the same packages can be used for measuring the temperature if required on discharge, thus reducing the number so damaged.

A bi-metal instrument consists of two strips of dissimilar metals with different coefficients of expansion joined together at one end, such that the varying temperature causes them to expand or contract at a different rate, this variation being accurately measured as a temperature reading, and connected to a calibrated dial.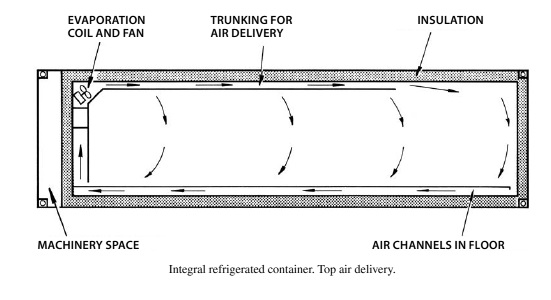 Integral refrigerated container top air delivery


More robust than glass thermometers, they are easier to read but require more time to settle and for the temperature to be measured.

Electrical resistance thermometers depend on the resistance of a wire or filament varying in ratio to its temperature. Here it is necessary to have a suitable instrument to measure the resistance, calibrated in degrees of temperature, but the sensing probe may be remote from the instrument. Distant reading thermometers are of particular value during the actual carriage of the cargo, as the sensing probes can be distributed amongst the stow and then the temperature read off externally during passage. Such instruments can also be fitted with a recording chart to give a continuous record of the temperature of the cargo during passage.

Some importing countries require proof that the requisite temperatures have been maintained for the required time. This may be to ensure cold sterilisation of the commodity with regard to parasites in living cargoes or for other temperature monitoring requirements. A temperature recording chart fitted to integral refrigerated containers may serve a similar function.

Certification of reefer containers

The ability of a reefer container to maintain a given temperature when using its integral refrigeration unit is tested in accordance with ISO 1496-2. This consists of two tests: one to determine the heat loss through the envelope of the container and the other to ensure the refrigeration unit can operate with a specific internal load. These tests are arranged during type approval.

The amount of electrical power required to maintain a reefer container at a given temperature depends on the size of the container (TEU or FEU), the required cargo temperature, the cargo being carried and the external ambient air temperature. For example, 9 kW of electrical power is needed to maintain a temperature of minus 18įC in a 40-foot container carrying frozen meat, while a container carrying fruit at 2įC requires approximately 11 kW. This is because fruit respire and produce heat during transit. Certain cargoes, for example bananas, may require even more power because of the greater heat produced as they ripen. There is a high electrical load on the shipís generators when reefer containers are carried.



Instructions For Temperature Controlled Containers (Reefer Containers)

These general guidelines shall be used unless overruled by client / charterer or container operator procedures.

Electrical Power And Plug Requirements
All refrigeration machinery must be capable of operating from a 380/440 volt, 50/60-cycle electrical power supply.
The main power plugs shall be 380/440 volt, 32 amp type complying with ISO1496-2: 1988E and CEE-17, 3h IEC309-2 standards.
It is the responsibility of the container operator to ensure that the temperature controlled units they use, are designed to meet the standard ISO 1496-2.
When necessary, the container operator shall supply the adapters or pigtails required when the unitís plugs are not compatible with the shipís power outlets. These can be kept onboard and managed with the spare parts pool.
When necessary, the container operator shall supply the step-up or step-down transformers required when their containerís power requirement is not compatible with the vesselís power supply. These transformers can be kept on board and managed with the spare parts pool. All costs associated with the loading, discharging and shifting of the transformers shall be for the booking Lineís account and arrangement.

Maintenance / Operator And Parts Manual Library

a) It shall be the vesselís responsibility to ensure that all necessary tools are on board and available to perform emergency repairs to the refrigeration units. These tools shall be agreed with the management office and may typically include:-
Multi-meter
Amp meter
Simpson meter / electronic thermometer
Vacuum pump
Refrigerant reclaims station
Refrigerant leakage detecting device
Refrigerant scale
Brazing tooling including brazing material
Hand tools such as screwdrivers, wrenches, flange tools etc.

b) All vessels shall carry a library of manuals supplied with the spare parts kits if provided by charterers.

c) If a container operator wants to ship a new or different model of refrigeration unit, he is responsible for providing one (1) set of manuals to the vessel to update the vesselís library.

d) Whenever any of the container operator phases out a refrigeration unit mode, that operator shall be responsible to collect or request disposal of the relevant manuals from the affected vesselís library.

e) Replacement of any of the manuals onboard a vessel shall be as per the charter party.


Related articles



Reefer cargo Handling In Port
Reefer containers shall be plugged in and supplied with ships power as soon as practicable after loading. In case it is to be done by shore hands, ships crew shall still closely monitor the operation and confirm that all reefer containers are supplied with power earliest after loading....

Reefer cargo care at sea
At sea, all reefer containers shall be monitored by checking physically at least Twice daily (weather permitting). All monitored data for each reefer container on board shall be entered in a reefer monitoring log and retained for 3 years. Some reefer containers with special cargo (e.g.: VIP cargo) come with instructions for more frequent monitoring and reporting. Such instructions shall be strictly followed. ....

Commodities Shipped In Reefer Containers
Some cargoes may require controlled humidity (e.g. flower bulbs). It should be remembered in such cases that many refrigeration units are only capable of reducing humidity within the cargo space and the settings should be applied accordingly. ....

Reefer Cargo Temperature Recording
A Partlow recorder registers temperature on a pressure sensitive circular chart over 31 day period. If the voyage transit is expected to exceed 31 days, care must be taken to ensure charts are replaced before expiry. The first chart should be placed under-neath the new chart in order to build up a complete temperature record for the entire voyage up until arrival at the final destination. .....

Reefer Cargo Maintaining Records
Monitoring the digital & chart temperatures of all reefer containers at least twice a day. Daily reefer container temperature check lists should be maintained, and printouts from monitoring unit should be preserved.....

Reefer Cargo Defrosting
During the operation of a refrigeration unit, a layer of ice will form on the evaporator coils depending on the temperature set, the temperature of the cargo, the amount of fresh air ventilation and the cargo humidity. The unit periodically enters a phase where heat is produced by a series of electrical bars, allowing defrosting to take place. At such times, all fans are turned off automatically in order to prevent heat from entering the cargo compartment. ....

Basic check item prior stowing Reefer Cargo
Stowage location of reefers must be checked against vessels reefer receptacle locations. In case reefer containers must be loaded in irregular locations, it must be confirmed that monitoring and repair will be possible during the voyage and that vessel has sufficient extension cables for providing power. ....



Preventing Reefer Cargo deterioration



Container handling additional guideline:

Containership cargo stowage and planning

Stacking Weights Restrictions

Lashing strength calculation

Dangerous goods stowage and segregation

Reefer Container Stowage

Out of Gauge Container Stowage

Special Container Stowage

20 or 40 or 45 feet Compulsory Stowage Locations

Irregular Stowage of Containers

Over-stow of Containers

Hatch Cover Clearance (High cube containers Under Deck )

Other matters regarding cargo stowage as necessary

How to load maximum number 20 feet container on deck ?

What are the extra precaution should be taken prior loading a 45 feet container on deck ?

Container damage in ''2 in 1'' cargo Operation

Modern containership & loading of various container types

How to load containers coming in different forms/sizes



Our additional pages contain somewhat larger lists of resources where you can find useful informations








Other info pages !

Ships Charterparties Related terms & guideline
Stevedores injury How to prevent injury onboard
Environmental issues How to prevent marine pollution
Cargo & Ballast Handling Safety Guideline
Reefer cargo handling Troubleshoot and countermeasures
DG cargo handling Procedures & Guidelines
Safety in engine room Standard procedures
Questions from user and feedback Read our knowledgebase
Home page




ShipsBusiness.com is merely an informational site about various aspects of ships operation,maintenance procedure, prevention of pollution and many safety guideline. The procedures explained here are only indicative, not exhaustive in nature and one must always be guided by practices of good seamanship.


User feedback is important to update our database. For any comment or suggestions please Contact us
Site Use and Privacy - Read our privacy policy and site use information.
//Home //Terms and conditions of use

Copyright © 2015 www.shipsbusiness.com All rights reserved.