Home page|| Tanker Notes || Container Ship Operations || Ocean Navigation ||





Tanker operation : Matters That Require Attention while carrying out soundings



Oil tankers operations at sea and while at port requires some basic safety procedure to be observed. Carrying out soundings of tanks should be given priority among the daily routine jobs onboard

The Chief Officer and the Chief Engineer (for Engine room) shall designate crew to carry out sounding of bilge and tanks complying with the following standards:


Bilge (Hold, Engine Room, Cofferdam, Void space, Chain Locker, Emergency Fire Pump Room, Bow Thruster Room, etc.)

• No matter whether the vessel is in port or at sea, all spaces which have a bilge sounding pipe (as per ship's drawings) shall be sounded at least once a day, except during heavy weather where master finds it is unsafe to access certain locations.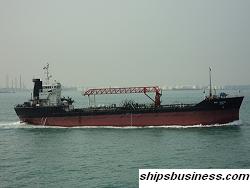 Fig: preparation for anchoring


• When the Bilge High Level Alarm activated (where equipped), take soundings of the space immediately and keep monitoring. Any abnormal soundings are to be investigated and reported to the office.


Fresh Water Tanks

No matter whether the vessel is in port or at sea, all fresh water tanks are to be measured and monitored for consumptions at least once a day. Any abnormal findings are to be investigated and reported to the office.


Ballast Water Tanks

No matter whether the vessel is in port or at sea, sound at least a day from the sounding pipe or measure by the remote level gauge.

If remote level gauges are used for the daily soundings, these shall be periodically verified for accuracy by comparing manual soundings with gauge soundings.

Sounding pipes on exposed decks may not be sounded when unsafe to do so as in heavy weather. Any abnormal soundings are to be investigated and reported to the office.







Related articles:

How to ensure safe working area onboard oil tankers The basic procedure



Container handling more info pages:

































Other Info Pages
Home Our home page
Site Map Page listing for this site.
Site Use and Privacy - Read our privacy policy and site use information.
Contact us

Copyright © 2009 Ships business.com All rights reserved.